Enabling the next generation of connectivity: the crucial role of RF components for 5G and IoT
Our communication world is transforming to connect everyone to everything, all the time, changing how we work, move, and live. RF data transfer has expanded beyond person-to-person communications (cell phones) to include device-to-device networks for Internet of Things (IoT), vehicular communication systems (V2V, V2X, V2I), smart homes, and many more applications.
Manufacturers are facing increased complexity brought about by the fifth generation of wireless technology (5G), carrier aggregation, multi-mode phones, and consumers' ever-increasing demands for bandwidth and reduced power consumption.
Semiconductor manufacturing processes and devices are key elements for supporting the growth of the RF industry and offering innovative RF components for all markets (digital communications, automotive, aerospace, defense), from acoustic wave filters (SAW, BAW), switches, power amplifiers (PA) and low noise amplifiers (LNA) to front-end modules, RFIC, antenna-in-package (AiP), and dedicated packaging such as system-in-package and fan-out.
Today, 5G is poised to revolutionize a wide variety of industries since it promises higher speed, lower latency, and improved reliability in communications. However, the potential of 5G is not yet fully unlocked because of the lack of RF devices that fulfill all requirements for all frequency bands needed for this new technology. For instance, devices to address sub-6 GHz (mid-band) and millimeter-waves (high band >24 GHz) spectrum as well as beamforming and carrier aggregation operations are still under development. RF front-end modules (RF FEM) are a key part of handsets that need to be improved. Indeed, in addition to operate in all 5G bands, the RF components need to be integrated into a small chip, which increases the complexity due to interferences, leakages, and crosstalk that occur.
Challenges for RF technologies
There are new requirements for mid-band (2-6 GHz) and high band (mm-waves) frequencies, each of which requiring a different architecture for the 5G RF front-end (RFFE) depending on whether the equipment is at the base-station level or at the user device level.
From an architectural perspective, the main technical challenges for 5G include selecting an appropriate semiconductor technology for required output power, linearity, and noise figure; achieving tight integration for mm-wave phased-array (small element-to-element spacing); and meeting the need for higher front-end module (FEM) integration driven by the increasing complexity (number of bands) from 4G to 5G.
5G infrastructure should provide high power but also be compatible with multiple-input and multiple-output (MIMO) operation and large antenna. The RF front-end modules (FEM) must evolve as 4G transition to 5G, with FEM architecture changing, driven by the integration of PA, LNA, switch, and phase shifter for beamformers. The new generation of RF FEM should maintain a small size despite the increasing number of devices required to manage all the new frequency bands, and the isolation between RF components must be ensured.
The RF industry has a well-established ecosystem, but it is shaken by the transition of the RF component market from devices to modules, and by the need to reach higher frequency bands for 5G. Leading players such as Murata, Skyworks, Qualcomm, Broadcom, and Qorvo have had to adapt to this transition and these new challenges. The RF component and module industries present many growth opportunities, but the established companies are facing increasing competition from Chinese players. Indeed, the Chinese RFFE ecosystem has accelerated the last few years, with numerous emerging companies actively supported by the demand of the domestic market.
The top RF players adopt different strategies for enlarging their patent/technology portfolio to higher bands. Skyworks began developing bulk acoustic wave (BAW) filters, while Murata acquired Resonant (XBAR technology). On the other hand, Broadcom has drastically reduced its intellectual property (IP) activity but has filed a couple of patents related to BAW with reduced k² and thin-film surface acoustic wave (TC-SAW) devices in order to address and protect acoustic filters in the 3GHz band. The company, which was previously largely leading the BAW and high band market and IP landscape, recently filed patents related to thin-film SAW based on piezoelectric-on-insulator (POI) substrate. Furthermore, 5G opens up new opportunities for many newcomers, especially in China (ROFS Microsystem, Newsonic Technologies, Lansus Technologies), and for vertical OEM innovators (Huawei, Apple, Samsung, Oppo, Vivo).
KnowMade's purpose
5G requirements make RF front-end modules relatively more complex compared to 4G counterparts. Analyzing patents and technology evolutions is crucial in better understanding this ecosystem and anticipating changes leading to the next 6G revolution.
Decision makers from all kinds of companies can find useful and solid information from patents and technologies at KnowMade. With our IP landscape reports, we identify and explain the main IP player roadmap and technology approach, reveal new competitors and their technology position and development, and provide clues about the risk level of litigation and the IP war between US and China in RF industry.
KnowMade's patent monitors on RF Front-End Modules & Components and RF Acoustic Wave Filters enable you to keep a close watch on new technology developments and IP activities of competitors. We pay special attention to Chinese IP players as the Chinese RF ecosystem is developing rapidly.
Depending on your needs, we can provide you with a customized analysis or monitoring service on particular technologies and/or companies, at the wafer (Si, SOI, GaAs, SiGe, GaN, etc.), component/device (filters, switches, PA/LNA, antenna, etc.), and module/system level, as well as related semiconductor manufacturing and packaging (SiP, fan-out, etc.). In addition to analyzing your IP competitive landscape, we can also support you with IP risk assessment (freedom-to-operate), patent invalidation (prior-art search), and patent infringer identification (evidence-of-use search).
---
Latest reports on RF technologies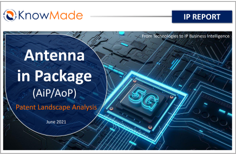 Major companies have patented variety of solutions to protect their own AiP structures and manufacturing processes. What are the white spaces left? Is the freedom
[...]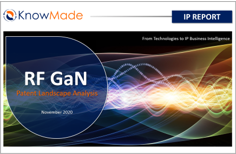 The last 2 years marked a turning point for RF GaN patenting activity now driven by China and moving on technical issues further down the
[...]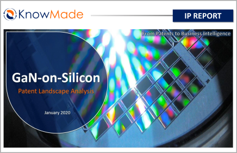 GaN-on-Silicon activity is now driven by micro-LED, GaN Power and GaN RF applications. Who is leading the IP competition in these different areas? Who are
[...]
Patent monitors on RF technologies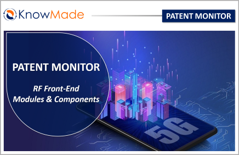 Get updated data on RF front-end module patent activity: new patents, patents expired or abandoned, latest patent transfers and patent litigation. Need more information? Contact us
[...]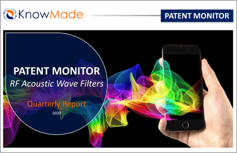 Get updated data on RF acoustic filters patent activity: new patents, patents expired or abandoned, latest patent transfers and patent litigation. Need more information? Contact us
[...]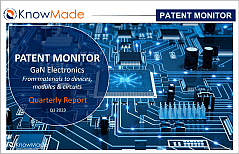 Get updated data on GaN-related patent activity for RF & Power electronics: new patents, patents expired or abandoned, latest patent transfers and patent litigation. Need
[...]
Latest insights about RF technologies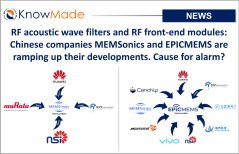 SOPHIA ANTIPOLIS, France – February 02, 2023 │ KnowMade introduces two newcomers from China (MEMSonics and EPICMEMS) who appear to be strengthening their intellectual property
[...]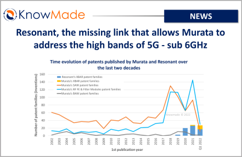 SOPHIA ANTIPOLIS, France – May 3, 2022 | In February 2022, Murata and Resonant announced they have entered into a definitive agreement under which Murata
[...]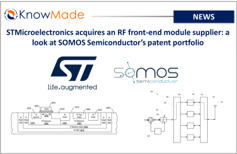 SOPHIA ANTIPOLIS, France – October 26, 2020 | On October 16, 2020, STMicroelectronics announced the acquisition of a French fabless company, SOMOS Semiconductor ("SOMOS"), specialized
[...]