The transition towards electric vehicles is driving battery technology developments
With increasing demand to decarbonise the transportation industry, battery electric vehicles (BEVs) are achieving momentum and beginning to take hold in the evolving green-mobility market. Most automakers are now committed to moving from internal-combustion-engine vehicles (ICEVs) to BEVs within a decade for the majority of their sales. They have significantly decreased their investments in ICEV technology. Now, they mainly invest to become established in the BEV industry, accelerating the decline in ICE vehicles. This transition creates opportunities and risks for battery and automotive players worldwide. The battery industry is now very competitive, with numerous start-ups and newcomers alongside all the traditional battery and car manufacturers. BEVs need further improvements requiring technological advances and for all stakeholders to invest extensively in the necessary technologies. Various technologies are being developed, and innovations are popping up all over the world, making the strategies of the players a little more complex.
Challenges for battery technologies
Nowadays, battery R&D players aim to improve energy density, charging speed, battery safety, and battery life for safer electrical vehicles with greater autonomy and faster recharging. Two main leads aim to reach these objectives: improving Li-ion batteries – the technology already used in electric vehicles – and developing new battery technologies with outperformed characteristics. Battery performances and safety can be enhanced by working at all supply chain levels, i.e., electrode and electrolyte materials, electrodes and other cell components, battery cells, modules, packs, and battery management systems. Care is also taken with regard to environmental impacts leading to significant developments in battery recycling and eco-conception.
A highly competitive ecosystem
The battery industry is a highly competitive field in full mutation with many underground developments. Thus, understanding technological evolutions and the competitive landscape is crucial to anticipating future moves and maintaining market shares. Well-established battery manufacturers (Samsung, CATL, LG, Panasonic, etc.) and materials suppliers (Umicore, Sumitomo Metal Mining, etc.) are challenged by the emergence of numerous Chinese companies (BYD, SVOLT, COSMX, etc.). A lot of start-ups are being launched to focus on solid-state batteries, silicon anode, or post-Li-ion batteries, while automotive players and even some fossil-fuel companies are entering the game. Different development strategies are currently adopted by car original equipment manufacturers, either exploring a vertical integration model with internal R&D developments, acquiring critical technologies or key component suppliers, or creating strategic partnerships or joint ventures. Until recently, battery manufacturing was an Asia-centric business, but interest in Europe has grown. Numerous gigafactories are now being built, not only by well-known Asian battery players (SK, Samsung, CATL, etc.) but also by new European companies (Northvolt, Verkor, ACC, etc.) supported by governments and automakers.
KnowMade purpose
At KnowMade, we investigate and monitor patents and scientific literature related to the whole battery value chain to track current and future challenges for Li-ion batteries as well as emerging battery technologies, from battery materials and components (electrodes, electrolytes) to battery cells and packs. Recently, we have been developing our expertise in batteries management systems (BMS) and battery recycling processes.
We have developed strong expertise to understand the battery competitive landscape by analysing patent activities. Our patent landscape analysis provides a complementary approach to market analysis to determine the strategies and technologies adopted by the leading companies, identify newcomers and technology developments that go under the radar, and uncover valuable start-up companies that own fundamental patents on ground-breaking technologies. We review the patent portfolio of given players across the whole supply chain and provide valuable insights about their R&D and technology roadmap. We can identify key patents and recent IP developments for specific materials, battery technologies, technical challenges, or applications.
We have developed expertise in identifying and analysing patents and scientific publications focused on specific materials or battery technologies:
LTO, Lithium metal and silicon, which are the main anode materials expected to replace graphite, with silicon being the most promising one to improve battery performance.
NMC, NCA, and LFP, which are the main cathode materials currently used in Li-ion batteries. NMC is the trendiest material used in a wide range of applications. LFP is widely used in Chinese batteries and has renewed interest from other battery players thanks to its lower cost and better safety, stability, and availability.
Solid-state Li-ion batteries, in which a solid electrolyte replaces the flammable liquid electrolyte used in conventional Li-ion batteries, thus resulting in greater safety and enhanced battery characteristics.
Post Li-ion battery technologies, such as Na-ion, Li-S, Mg-ion, Al-ion, Ca-ion, Zn-ion, F-ion, Li-air, etc.
We can conduct patent and scientific literature analyses to identify emerging battery technologies and corresponding advantages, drawbacks, challenges, and solutions, sum up manufacturing methods for materials, electrodes, and battery cells, and establish the correlation between synthesis methods, effects on material physicochemical properties, and their impact on the battery performance.
Our monitoring services allow you to keep a close eye on the latest R&D activities of your competitors, get updated data on patent activity (new patent applications, expired or abandoned patents, etc.), detect opportunities and risks early on, in terms of technology, the market, and intellectual property (IP), discover new partners, and identify key technologies for investment.
In addition to carrying out prior-art searches to evaluate the patentability of your invention or to invalidate a blocking patent, KnowMade can perform a freedom-to-operate (FTO) analysis to assess the infringement risks for your new products.
---
Latest patent landscapes on battery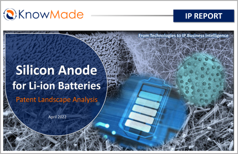 How have industry leaders and start-ups positioned their pawns to address the glorious potential of silicon anode-based Li-ion batteries? Publication April 2022 Download Flyer Download
[...]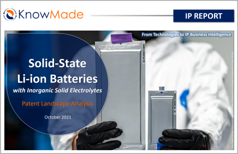 Japanese companies have dominated the patent landscape, but the last 3 years have seen an explosion in Chinese patenting activity, while automakers and numerous pure-play
[...]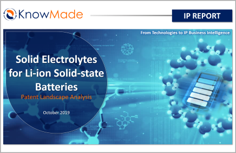 Solid electrolyte material is the key ingredient in solid-state batteries. This patent analysis will empower your understanding of the main R&D trends and competitors' technological
[...]
Patent monitors on battery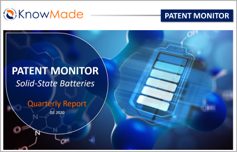 Get up-to-date data on solid-state battery patent activity: new patents, expired or abandoned patents, latest patent transfers and patent litigation. Need more information? Contact us Download
[...]
Latest insights on batteries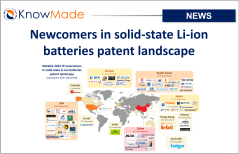 SOPHIA ANTIPOLIS, France – March 20, 2023 │ Solid-state lithium battery news: Through KnowMade's comprehensive patent landscape analysis, discover who entered the solid-state Li-ion batteries
[...]
SOPHIA ANTIPOLIS, France – July 29, 2022 │ Toyota were one of the first companies to put an electrical vehicle, the EV-RAV4, on the market
[...]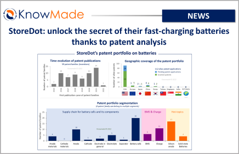 SOPHIA ANTIPOLIS, France – June 10, 2022 | In April 2022, Volvo announced a key investment in the Israeli start-up StoreDot founded in 2012 (see
[...]