At KnowMade we are skilled to take large amounts of raw, unprocessed and complex scientific and patent data to generate insightful analysis reports. Our highly qualified analysts have strong technological background (PhD) and in-depth knowledge of patent information and related legal aspects (CEIPI, Strasbourg). They master leading-edge information search and analysis tools, and keep abreast of industry developments and market trends. Consequently, our analysts can expertly interpret the results, contextualize the IP position of players, and furnish high-value added reports, providing answers to complex questions concerning technology, competitors, ecosystems, and potential risks and opportunities.
Our team develops products and services to track and analyze innovations linked to the following megatrends:
The electrification and decarbonization of our society, the transformations occurring in the storage and conversion of electrical energy, and their impact on transportation sector.
The digitalization of our data-centric world and humanity's desire to connect everyone to everything, all the time, and what that implies for hardware.
The revolution occurring in machine perception, with smart sensors that mimic human senses or even taking in information in ways that humans are unable to, for sensing and interpreting our world better or differently.
The impact of high-performance computing (HPC) and artificial Intelligence (AI) applications on innovations in semiconductor advanced packaging, interconnects, and memory fields.
The new advances in modern biotechnology from pharmaceutical development to food production and the treatment of polluting waste.
The evolving of medical and agri-food sectors which put the human back on top of their product development matters to monitor and improve their health and nutrition.
Here are the scientific and technological fields in which KnowMade offers an indisputable expertise for data analysis.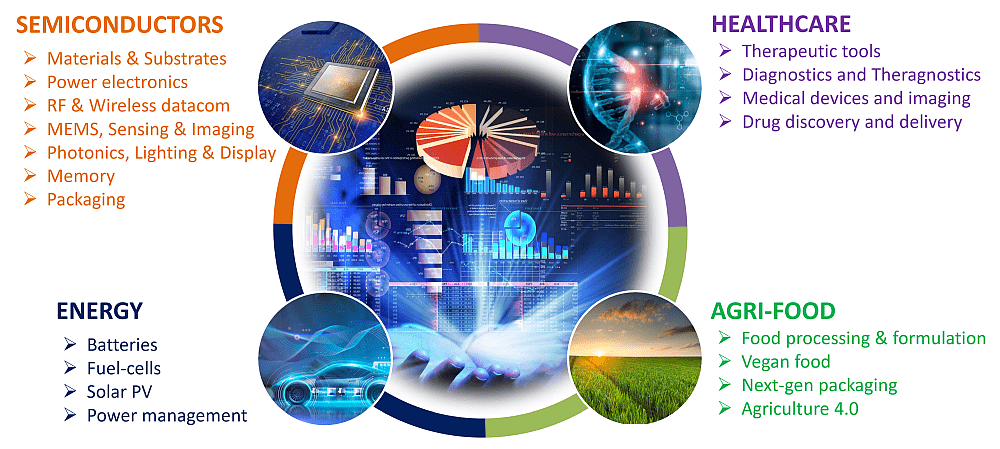 Semiconductors, and related microelectronics, photonics, and packaging technologies
KnowMade's analysts have an education and/or previous career in semiconductor fields, ensuring that any analysis in those sectors is relevant, from materials to devices, packaging and applications:
Power electronics
RF & Wireless communications
MEMS, Sensing & Imaging
Photonics, Lighting & Display
Memory
Advanced packaging
Learn more about our Semiconductor expertise.
Energy storage and management
The field of energy is provided by highly qualified experts, specializing in the latest technical innovations regarding:
Materials for electrodes and electrolytes
Manufacturing methods for battery materials, electrodes, and cells
Battery cells and packs
Fuel cells
Learn more about KnowMade's expertise in Energy.
Life sciences and Healthcare
By entrusting us with the analysis of data from patents and scientific publications, you can lead your R&D and business with useful knowledge in the following health fields:
Therapeutic tools (mRNA therapy, cell-based therapy).
Diagnostics and Theradiagnostics (DNA sequencing, liquid biopsy, artificial intelligence)
Medical devices
Drug discovery
Discover our expertise in Life Science.
Agriculture and Food
At the crossroads of several scientific fields, the agri-food sector is also part of KnowMade's area of expertise, including:
Food processing and formulation.
Dairy and meat product alternatives.
Sustainable food packaging.