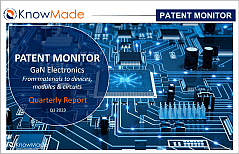 Get updated data on GaN-related patent activity for RF & Power electronics: new patents, patents expired or abandoned, latest patent transfers and patent litigation.
Need more information? Contact us.
Key Features of the service
Every quarter an Excel file including:
New patent applications.
Patents newly granted.
Patents expired or abandoned.
Transfer of IP rights (re-assignment, licensing)
Patent litigations and oppositions.
Patents categorized by applications, position in the value chain and technological challenges: Power IC, MMIC, E-mode transistors, Vertical power devices, Wafer & Epiwafer, GaN-on-Silicon, Current collapse & dynamic on-resistance, Thermal issues, etc.
Every quarter a PDF report including:
Key fact & figures of the quarter
Graphs & comments covering the patent landscape evolutions
A close look at the key IP players and newcomers
Access to an IP analyst for 100 hours per year:
Q&A session and discussion with our IP analysts regarding trends, analyses, specific patented technologies or company's IP portfolio.
Access all KnowMade patent landscapes about semiconductors.
---
RF GaN
The RF GaN market is growing fast – driven by military and telecom applications – and there is still a huge potential to develop for RF GaN market players with the advent of 5G infrastructure for instance. With RF GaN market ramping up, Knowmade have seen many new players entering the RF GaN patent landscape and several major companies (Fujitsu, Toshiba) strengthening their IP position and challenging well-established IP players (Cree/Wolfspeed, Sumitomo Electric). Furthermore GaN-on-SiC technology has been so far the predominant technology in GaN RF devices market. However in the near future GaN-on-SiC technology will have to compete with GaN-on-Si especially in the telecom market as performance and reliability of this technology keep improving.
In this context, the patent monitoring service allows to identify new entrants in RF GaN competitive landscape and track the IP activity of major players according to the value chain (epiwafer, device, MMIC, etc.), the technology (GaN-on-Si) and technological challenges (thermal management, current collapse). Furthermore, the patent monitoring service provides information about recently expired or abandoned patents which may create new business opportunities and reports recent patent litigations in the field of RF GaN technology.
Power GaN
Power GaN market may suddenly take off in the next years as many opportunities exist for this technology especially in power supply and EV applications (wireless charging, fast charging). Furthermore, in this market, numerous fabless or fab-lite start-ups (EPC, Navitas, etc.) relying on foundry services such as X-Fab or TSMC compete with major semiconductor companies (Infineon, STMicroelectronics) in order to find the most cost-effective and easy-to-use solution for GaN technology at the system level (E-mode or D-mode devices, SiP or SoC, etc.) and thereby aiming at accelerating the adoption of GaN technology for power applications.
In this context, the patent monitoring service gives periodic insights on the IP activity of start-up & big companies, according to the level of integration (package or chip) and functionalization of power IC, the technology (E-mode, vertical devices) and technological challenges (thermal issues, dynamic on-resistance). Furthermore, the patent monitoring service allows to early detect newcomers in the field of power GaN, and details the IP collaborations and transfer of rights between IP players.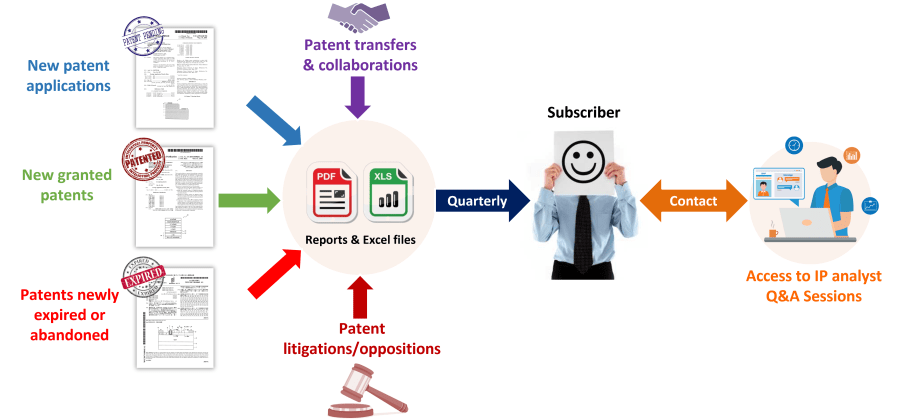 Benefits of the patent monitoring service
Keep an eye on your competitors' IP activities and their future intentions.
With the help of the patent monitoring service, you will be aware of your competitors' current patenting activities, their IP dynamics, patent transfers including acquisitions and licenses, patent litigation, technology development and R&D strategies. You will also be able to detect newcomers early in your business area.
Keep track of the latest technology developments and get ahead of technology trends.
By keeping note of any recent patent filings, you can track the latest innovations in the field. You will get details on claimed inventions and you can follow technology developments. New technical solutions could inspire and improve your R&D activity.
Prevent registration of IP rights that may be harmful to your business.
You will obtain information on patent applications filed even before exclusive rights have been granted and you can react in time to prevent registration of IP rights that may be harmful to your business.
React in time to infringements and mitigate legal risks.
Monitoring newly-issued patents allows you to regularly assess your freedom-to-operate, ensuring your products or processes are not covered patents and thus they can be manufactured, sold or used safely without infringing valid IP rights owned by others.
Take advantage of free technologies and decrease R&D project risks.
By tracking both expired patents and abandoned patents, you will be able to identify inventions entering the public domain that you can use safely for your development.
Understand the current IP trends and IP strategy of competitors.
On a quarterly basis, the report will provide the IP trends over the last three months, with a close look at key IP players, newcomers and key patented technologies. Main patent applicants and their inventions, blocking patents, promising patents and key newly expired or abandoned patents will be highlighted.
Access to an IP analyst.
Take advantage of direct interaction with our analysts by phone and/or email and get specific input for specific patented technologies and company IP portfolios through on-demand Q&A sessions and discussion (100 hours per year).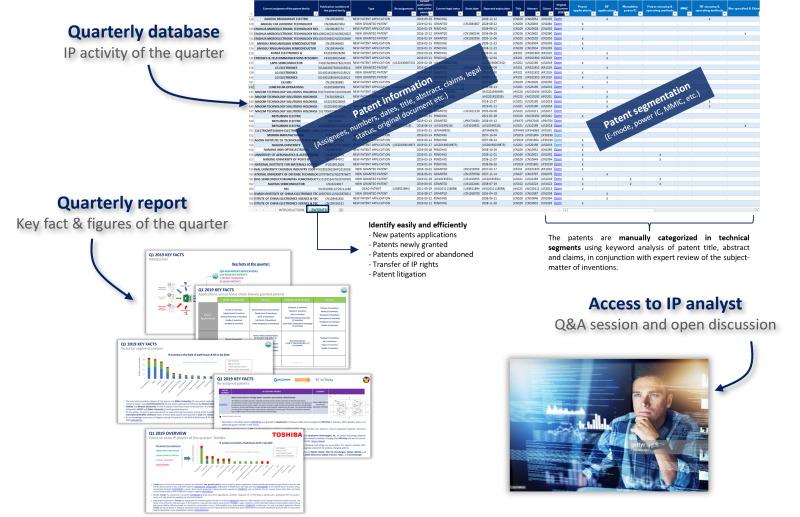 If you need a quote to issue a purchase order, please use our contact page or email address contact@knowmade.fr.