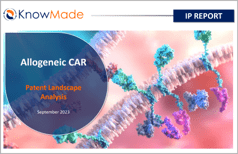 How can allogeneic CAR revolutionize CAR-T cell therapy ?
Publication September 2023
Report's Key Features
PDF>120 slides
Excel database containing all patents analyzed in the report  (>400 patent families), including segmentations + hyperlink to updated online database (legal status, documents etc.)
IP trends, including time evolution of published patents, countries of patent filings and patents' legal status
Ranking of main patent assignees
Key players' IP position and relative strength of their patent portfolios
Analysis of collaborations and EP patent oppositions.
Segmentation: cells (T cells, NK, other), cells origin (PBMC from peripheral blood, iPSC, cord blood & placenta), gene editing tools (CRISPR, TALEN, ZFN, Meganuclease, other) and therapeutic area (hematological malignancies , solid tumor).
---
Allogeneic CAR, a faster and less expensive therapy than autologous CAR-T cells
The pipeline for cell and gene therapies has been increasing at a rapid rate as are clinical developments. According to the FDA, the number of investigational new drug applications for cell and gene therapies has more than doubled since 2017. To manage this influx, in March 2023, the Office of Therapeutic Products was established as the first super office at the FDA's Center for Biologics Evaluation and Research. Chimeric antigen receptor (CAR) cell therapies are one of the major, and perhaps, best known, components of cell and gene therapies. CAR therapies, mainly to treat cancer, are immune cells engineered to express a chimeric receptor directed against tumor antigens. Currently, there are 2 main types of CAR therapies: autologous (patient-derived) and allogeneic (from healthy donor). Allogeneic CAR are produced from third-party healthy immune cells which confers many advantages. First, allogeneic CAR treatment enables the process to be done in 10 to 11 days versus a minimum of three weeks with autologous CAR therapy. This accelerated process eliminates the need for bridging therapy therefore allowing better results. Second, a high number of CAR immune cells can be produced from a single donor enabling an industrialized manufacturing processes. Moreover, CAR products can be standardized thanks to the production of batches of cryopreserved immune cells. This industrialization also leads to a reduction of manufacturing cost and ultimately reduces the price of treatments. However, allogeneic CAR can generate graft-versus-host disease, which is life-threatening. To overcome this major problem, companies and academics develop several approaches such as the use of various immune cells (e.g., NK, macrophage), the use of induced pluripotent stem cells or umbilical cord blood as source of immune cells or gene editing tools (e.g., CRISPR, TALEN). Currently, more than 100 clinical trials are in progress, but this number increases, reflecting the interest in this topic as well as the economic stakes for companies. However, to date, there is still no product on the European and United States markets, but some patent oppositions have already been initiated against key patents, and several newcomers, mainly American, are entering the allogeneic CAR field. In this evolving context, it is crucial to understand the intellectual property position and strategy of these different players. Such knowledge can help detect business risks and opportunities, anticipate emerging technologies, and enable strategic decisions to strengthen market position.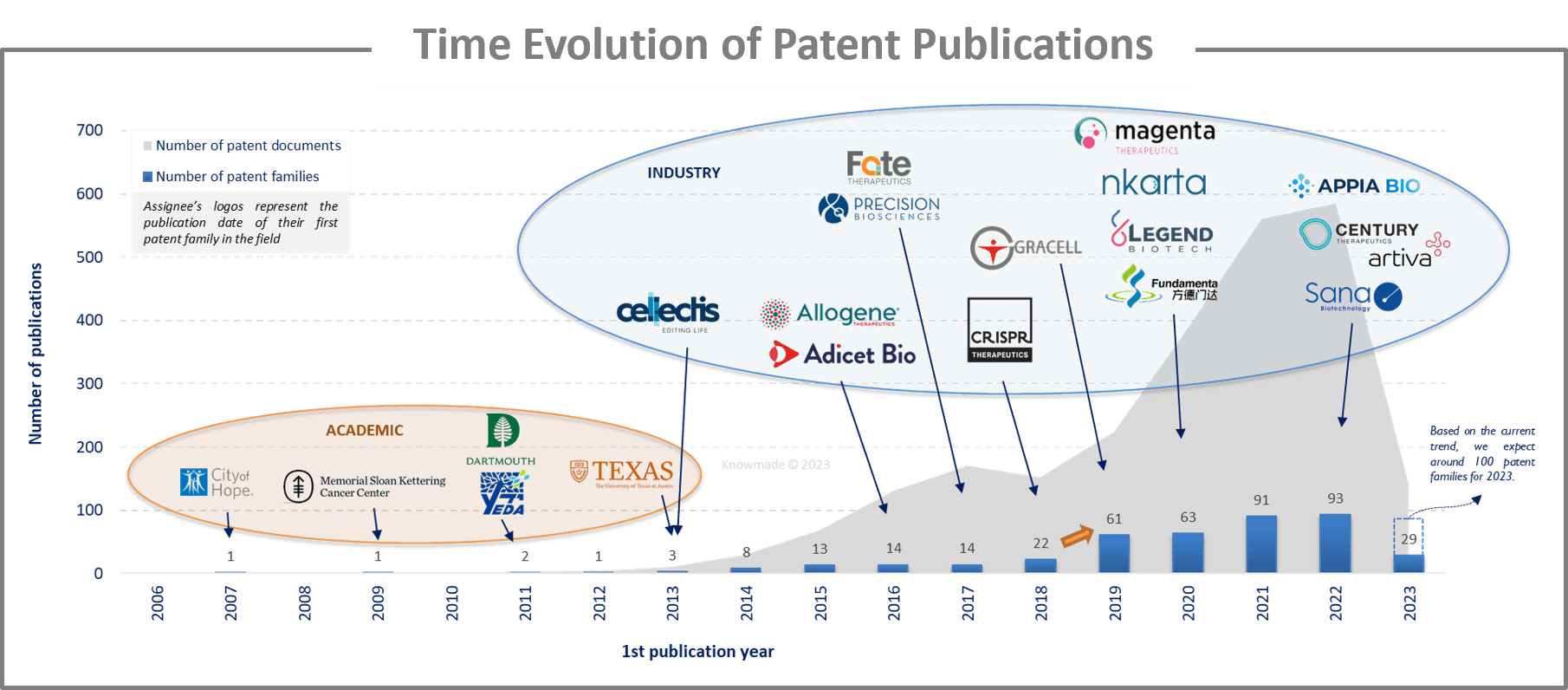 The analysis of the time evolution of patent publications shows that interest in allogeneic CAR began in the late 2000s. However, in 2017, for the 1st time, two autologous CAR therapies have been approved by the FDA: KYMRIAH™ (tisagenlecleucel) from Novartis and YESCARTA™ (Axicabtagene Ciloleucel) from Kite Pharma, a Gilead company. These two therapies are CD19-directed genetically modified autologous T cell immunotherapies. This event allowed the CAR technology to fully develop and led to a significant increase in the number of patent families published since 2019 in allogeneic CAR area.
Analysis by segment
Allogeneic CAR have been investigated and the selected patent families labeled according to technologies to which they relate. This IP landscape features the following 4 types of segmentation: cells (T cells, NK, other), cells origin (PBMC from peripheral blood, iPSC, cord blood & placenta), gene editing tools (CRISPR, TALEN, ZFN, Meganuclease, other) and therapeutic areas (hematological malignancies , solid tumor).

EP oppositions
Currently, there is few EP oppositions which reflects the novelty of allogeneic CAR technology. Most of the proceedings are recent, having been filed in the past 5 years, and are still pending. For each opposed patent, the application date, assignee, opponent, opposition year, and results are detailed.
Identifying the companies that have recently emerged in the IP landscape
Among the players owning patent families related to allogeneic CAR, 31 newcomers were identified. These companies are either start-up firms (8) or established companies (23) developing their first technology in the field. Most IP newcomers are based in the U.S. and in Asia. It is possible that one of these innovative companies could become one of the next healthcare unicorns that the big corporations will be tempted to acquire.
IP profile of key players
This IP study includes a selection and description of main players. The patent portfolio analysis of main players includes a description of the assignee, patent portfolio description, time evolution of patent publication, main geographical coverage and live patents by technical segment. This IP profile overview is followed by the description of the technological content of their key patents and by a table with its clinical trials.

Moreover, the report also includes an Excel database with the 416 patent families analyzed in this study. This useful patent database allows for multi-criteria searches and includes patent publication numbers, hyperlinks to the original documents, priority dates, titles, abstracts, patent assignees, each patent's current legal status and segmentation.
Companies mentioned in this report (non-exhaustive list):
ADICET BIO, ALLOGENE THERAPEUTICS, ATARA BIOTHERAPEUTICS, CARIBOU BIOSCIENCES, CELLECTIS, CELYAD ONCOLOGY, CENTURY THERAPEUTICS, CRISPR THERAPEUTICS, FATE THERAPEUTICS, FUNDAMENTA THERAPEUTICS, GC CELL, GRACELL BIOTECHNOLOGIES, LEGEND BIOTECH, MAGENTA THERAPEUTICS, NKARTA, PRECISION BIOSCIENCES, TAKEDA, etc.