Extracted from: Optical Coherence Tomography Medical Imaging – Patent Landscape report, Knowmade, February 2018
OUTLINES:
• Recent mergers and acquisitions have occurred in the OCT medical imaging field. How will they impact the IP landscape?
• OCT's development began 25 years ago, under MIT's impetus.
• OCT medical imaging is a competitive market. Several products are currently available, and new ones are commercialized regularly.
• The 4,850 patent families selected for this study are categorized by main medical applications. This report reveals the IP strategy and technical choices of patent assignees.
SOPHIA ANTIPOLIS, France – February 19, 2018 │ OCT medical imaging is clearly a competitive market. Several products are currently available, and new ones are regularly commercialized. Numerous M&A have occurred in the last decade, enabling some companies to significantly strengthen their market standing and IP position. Among these M&A Knowmade, part of Yole Group of Companies, highlights the acquisition of St. Jude Medical by Abbott in 2017 for US$25 billion; Nikon's 2015 acquisition of Optos and in the same year, Leica Microsystems' acquiring of Bioptigen; and Philips' acquisition of Volcano in 2014… "Given these several recent acquisitions, it is essential to understand today's OCT medical imaging patent landscape and its players' IP positions", comments Dr Le Greneur, Analyst at Knowmade. Such knowledge can help anticipate upcoming medical applications, detect business risks and opportunities, and enable strategic decisions to strengthen one's market position.
Knowmade releases this month a new patent landscape analysis titled, Optical Coherence Tomography Medical Imaging. This report provides a ranking and detailed understanding of the top patent holders' relative strength, derived from their portfolio size, patent citation networks, countries of patent filings, and current legal status of patents. Through this in-depth analysis the technology intelligence & IP strategy consulting company has identified more than 15 major players, each of which is profiled in the OCT report. Each profile includes a detailed portfolio analysis with patent activities, key patents, portfolio impact, and IP strategies.
The OCT medical imaging landscape involves big companies and small ones. This landscape also reveals the importance of some academic applicants in OCT imaging's development. Knowmade's analysts propose today a deep understanding of the medical imaging technologies for OCT applications.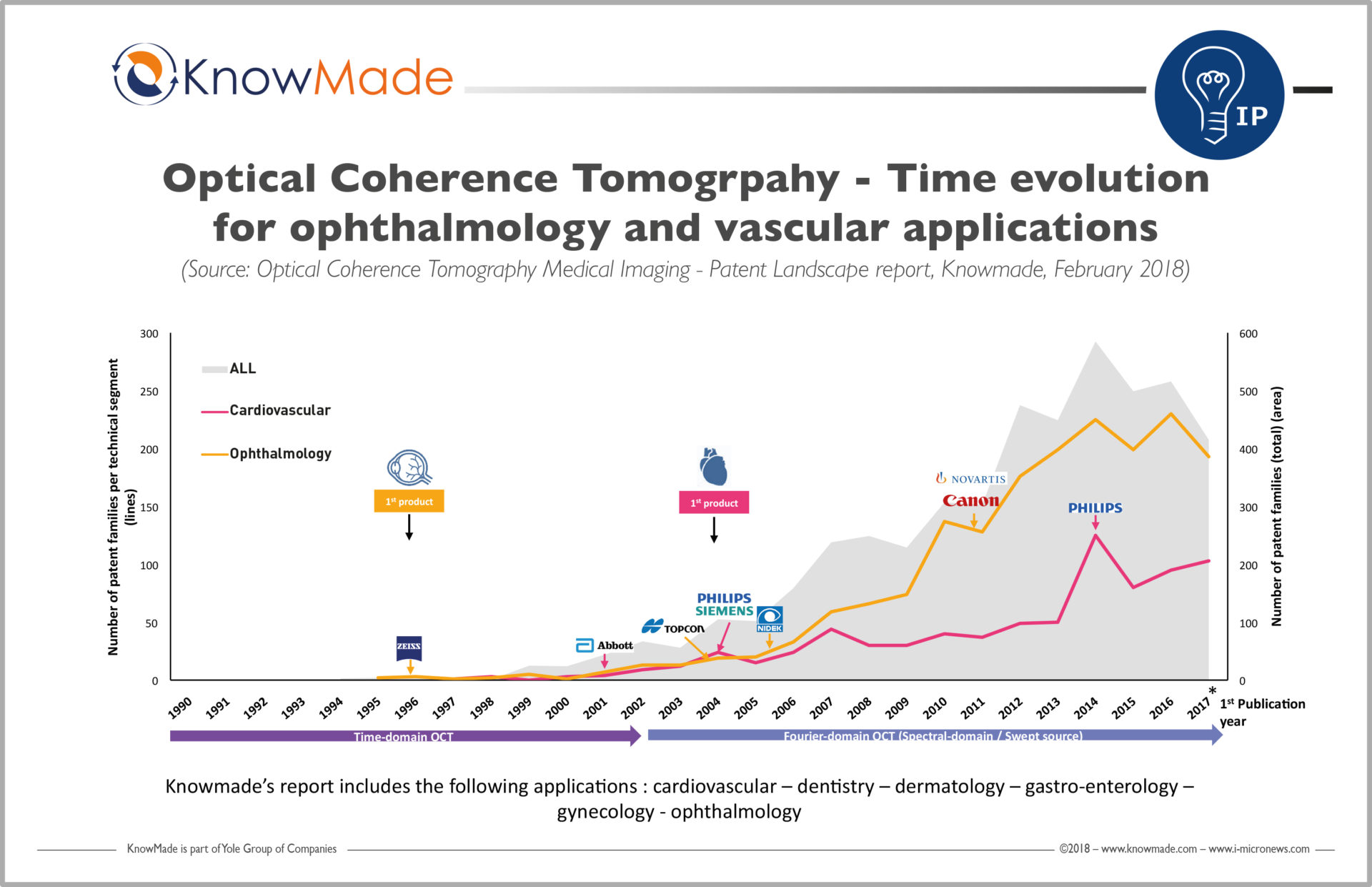 "OCT is a non-invasive imaging technique widely used in the medical world, especially in ophthalmology and vascular/cardiology", explains Dr Brice Sagot, Knowmade's COO. "Its development began 25 years ago, under MIT's impetus. Since then, OCT imaging technologies and capabilities have greatly evolved." Considering the significant impact this technology has had on the diagnostics and monitoring of diseases in ophthalmology and the intravascular domain, developments are underway to expand OCT to other medical applications including gastroenterology, dermatology, and gynecology.
Yole Développement, part of Yole Group of Companies as well, estimates a 7.3% CAGR (in units) growth for the OCT equipment sales between 2017 and 2022. Intravascular should bring additional OCT equipment volume while ophthalmology OCT will continue to enjoy a steady growth. In parallel, new development in dental and dermatology should expand OCT application's scope.
Patent activity related to OCT medical imaging emerged in the 1990s with MIT. Today, OCT medical imaging's IP landscape represents over 4,850 families, including more than 13,350 patents. The landscape is very competitive, with several key IP players. Main current applicants in the field of OCT medical imaging include Abbott, Canon, Novartis, Philips, Topcon and Zeiss.
Many patent applicants are American and Japanese companies and main countries targeted by these players are USA and Japan. However, China and Europe have gaining importance in the last decade.
"Noteworthy, we observe the absence of Chinese applicants, such as MOPTIM or SUOER, among the main applicants", asserts Dr Le Greneur from Knowmade. "Chinese applicants do not currently show a high IP leadership in OCT technologies."
In the early 2000s, two applications were present: intravascular/cardiovascular and ophthalmic. Since 2005, the number of patents related to OCT for ophthalmology has increased greatly. Other medical applications are today in an emerging phase, but offer potential benefits once resolution and speed-of-image acquisition improve. The 4,850 patent families selected for Knowmade study are categorized by main medical applications. In this new patent landscape report, the company reveals IP strategies and technical choices of patent assignees:
• Ophthalmic applications are dominant in OCT technology and involve several main applicants, including Canon and Zeiss.
• The second-most popular OCT medical application is cardiovascular imaging. This domain involves totally different applicants compared to ophthalmology.
And more recently, new medical applications for OCT have been developed, including dermatology, gastroenterology, gynecology, and dentistry…
A detailed description of this report is available on Knowmade website.
Acronyms:
OCT : Optical Coherence Tomography
M&A : Mergers and Acquisitions
IP : Intellectual Property
CAGR : Compound Annual Growth Rate
Source:
Solid-State Medical Imaging report, Yole Développement, 2017
Discover our in-depth patent analyzes in the life sciences section.
---
Press contact
contact@knowmade.fr
Le Drakkar, 2405 route des Dolines, 06560 Valbonne Sophia Antipolis, France
www.knowmade.com
About our analyst
Olivier Thomas, MSc, Olivier works at Knowmade in the field of Biotechnology and Life Sciences. He holds an MSc in Molecular and Cellular Biology from Paris VI University (France). He also holds an Industrial Property International Studies Diploma in Patents and Trademarks from the CEIPI (Strasbourg, France).
About Knowmade
Knowmade is a Technology Intelligence and IP Strategy consulting company specialized in analysis of patents and scientific information. The company helps innovative companies and R&D organizations to understand their competitive landscape, follow technology trends, and find out opportunities and threats in terms of technology and patents.
Knowmade's analysts combine their strong technology expertise and in-depth knowledge of patents with powerful analytics tools and methodologies to turn patents and scientific information into business-oriented report for decision makers working in R&D, Innovation Strategy, Intellectual Property, and Marketing. Our experts provide prior art search, patent landscape analysis, scientific literature analysis, patent valuation, IP due diligence and freedom-to-operate analysis. In parallel the company proposes litigation/licensing support, technology scouting and IP/technology watch service.
Knowmade has a solid expertise in Compound Semiconductors, Power Electronics, Batteries, RF Technologies & Wireless Communications, Solid-State Lighting & Display, Photonics, Memories, MEMS & Solid-State Sensors/Actuators, Semiconductor Manufacturing, Packaging & Assembly, Medical Devices, Medical Imaging, Microfluidics, Biotechnology, Pharmaceutics, and Agri-Food.