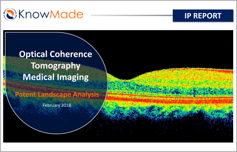 Recent mergers and acquisitions have occurred in the OCT medical imaging field. How will they impact the IP landscape?

Publication February 2018
Report's Key Features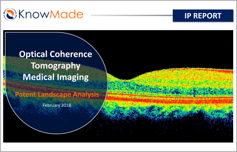 PDF > 115 slides
Time-evolution of patent publications and countries of patent filings
Current legal status of patents
Ranking of main patent applicants
Joint developments and IP collaboration network
Key patents and granted patents near expiration
Relative strength of main companies' IP portfolio
IP profiles for 17 major companies
This report also includes an extensive Excel database covering all patents analyzed in the study
All our patent landscapes about Healthcare are designed to provide useful information to commercial developers and researchers. If you need a full description, find out everything included with a patent landscape.
---
Optical coherence tomography medical imaging: a dynamic, competitive market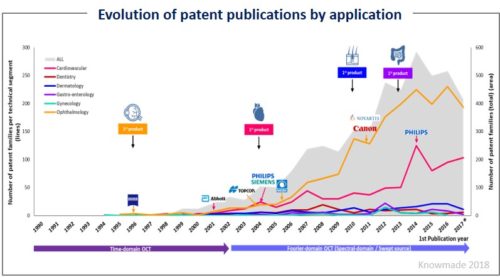 Optical coherence tomography (OCT) is a non-invasive imaging technique widely used in the medical world, especially in ophthalmology and vascular/cardiology. Its development began 25 years ago, under MIT's impetus. Since then, OCT imaging technologies and capabilities have greatly evolved. Considering the significant impact this technology has had on the diagnostics and monitoring of diseases in ophthalmology and the intravascular domain, developments are underway to expand OCT to other medical applications including gastroenterology, dermatology, and gynecology. OCT medical imaging is a competitive market. Several products are currently available, and new ones are commercialized regularly. Also, numerous M&A have occurred in the last decade, enabling some companies to significantly strengthen their market standing and IP position. Among these M&A we can highlight the acquisition of St. Jude Medical by Abbott in 2017 for $25B; Nikon's 2015 acquisition of Optos and in the same year, Leica Microsystems' acquiring of Bioptigen; and Philips' acquisition of Volcano in 2014. Given these several recent acquisitions, it is essential to understand today's OCT medical imaging patent landscape and its players' IP positions. Such knowledge can help anticipate upcoming medical applications, detect business risks and opportunities, and enable strategic decisions to strengthen one's market position. Patent activity related to OCT medical imaging emerged in the 1990s with MIT. In the early 2000s, two applications were present: intravascular/cardiovascular and ophthalmic. Since 2005, the number of patents related to OCT for ophthalmology has increased greatly. Today, OCT medical imaging's IP landscape represents over 4,850 families, including more than 13,350 patents. The landscape is very competitive, with several key IP players. Other medical applications, i.e. gastroenterology, dermatology, and gynecology, are in an emerging phase, but offer potential benefits once resolution and speed-ofimage acquisition improve.
Identify key players
This report provides a ranking and analysis of the top patent holders' relative strength, derived from their portfolio size, patent citation networks, countries of patent filings, and current legal status of patents. Through this in-depth analysis we have identified 15+ major players, each of which is profiled in this report. Each profile includes a detailed portfolio analysis with patent activities, key patents, portfolio impact, granted patents near expiration, and IP strategies. The OCT medical imaging landscape involves big companies and small ones. Also, this landscape reveals the importance of some academic applicants in OCT imaging's development.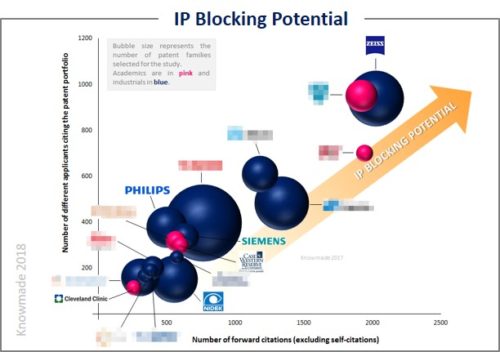 Identify key technologies
The 4,850 patent families selected for this study are categorized by main medical applications. This report reveals the IP strategy and technical choices of patent assignees. Ophthalmic applications are dominant in OCT technology and involve several main applicants, including Canon and Zeiss. The second-most popular OCT medical application is cardiovascular imaging. This domain involves totally different applicants compared to ophthalmology. More recently, new medical applications for OCT have been developed, including dermatology, gastroenterology, gynecology, and dentistry.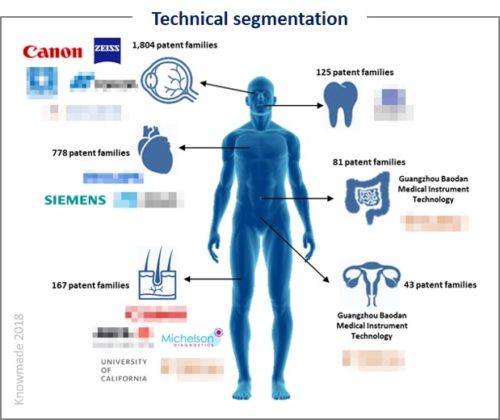 Patent litigations
The patent landscape related to OCT medical imaging includes patents that have been part of infringement litigation. For example, a series of disputes pitted Zeiss against Optovue regarding an OCT retina imaging technology. Also, Omni MedSci filed litigation against Leica regarding a fiber light source used in OCT and a spectroscopy procedure. This report covers patents and products involved in these litigations, a description of the initial complaint, and a link to the original document.
This report also includes an Excel database containing every analyzed patent. This database allows for multi-criteria searches and includes patent publication number, hyperlinks to the original documents, priority date, title, abstract, patent assignees, and legal status for each patent family member.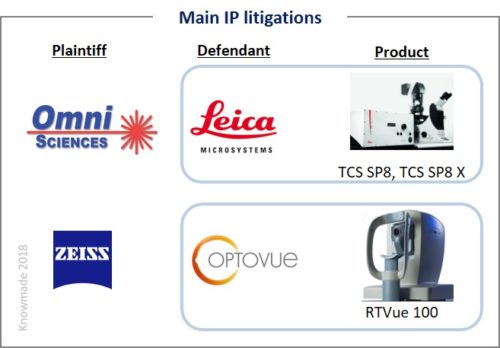 Companies and academics cited in the report (partial list)
Abbott, Alcon, Bioptigen, Boston Scientific, Canon, Carl Zeiss, Cleveland Clinic, CWRU, Leica Microsystems, MGH, MIT, Nidek, Novartis, Optopol, Optos, Optovue, Philips, St Jude Medical, Topcon, Volcano,…