Extracted from: Radar Technologies for Automotive report, 2017 edition and LiDAR for Automotive & Industrial Application, 2018 edition from Yole Développement – AWR1642 77 & 79 GHz RFCMOS Radar Chipset from Texas Instruments report, 2018 edition from System Plus Consulting – LiDAR for Automotive Patent Landscape report, 2018 edition from Knowmade.
SOPHIA ANTIPOLIS, France – September 20, 2018 │ The automotive radar market consequently benefits from a 23% CAGR between 2016 and 2022. AEB application is the main driver for the 77 GHz radar market growth. Yole Développement (Yole) announces a global radar market reaching US$7.5 billion in 2022, at the module level. "This growth should be accelerated with the autonomous car market," comments Cédric Malaquin, Technology & Market Analyst, RF Devices & Technologies at Yole. The market research and strategy consulting company Yole and its partners System Plus Consulting and Knowmade, are following the RF electronics industry taking into account technology evolution, market trends, the whole supply chain and the dedicated patent landscape. The companies propose a comprehensive understanding of the RF electronics industry with a wide collection of reports. More info.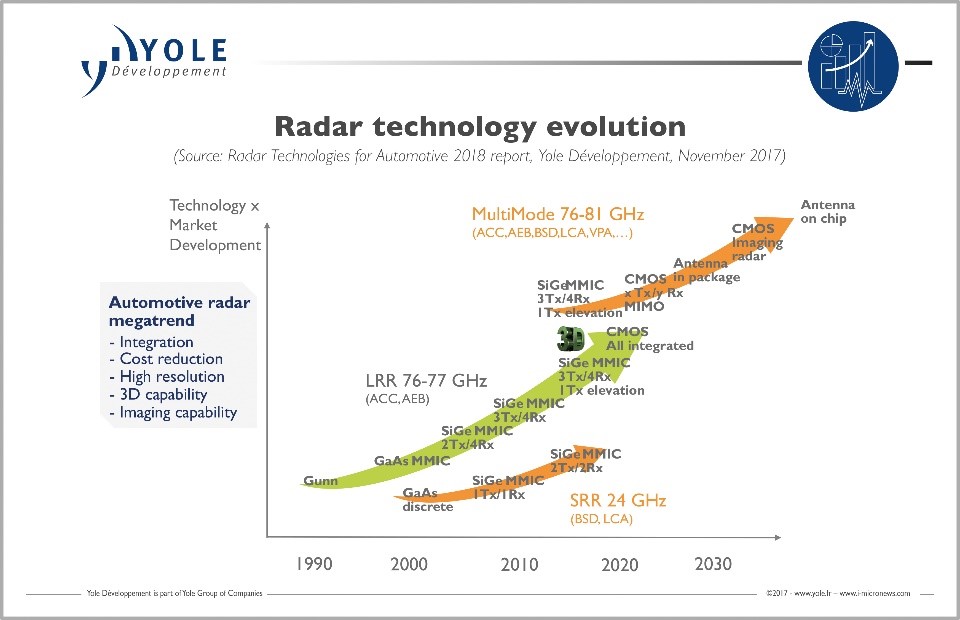 With the recent strong focus on safety, the market potential for ADAS has been extended to mid-end cars resulting in a production volume increase. Coupled to the fact that radars are well considered and employed by many brands: in 71% of cases for AEB. Another trend with the advent of autonomous driving is the use of corner radar for the car 360° surveillance. These short and mid-range radar are supported by 24 GHz and more recently by 79 GHz module. The latest one being more suited for high resolution tracking which will be desirable for tasks such as target separation or even object recognition. Corner radars will be a must have for redundancy with other sensors such as camera or even Lidar for high-end robotic cars. Indeed, the global LiDAR systems' market for automotive applications, is showing an impressive growth between 2017 and 2023: Yole announces a huge 43% CAGR during this period to reach US$5 billion in 2023, supported by a strong policy of investments … "Strong investments are already noticeable at the IP level", comments Dr. Paul Leclaire, Technology & Patent Analyst from Knowmade. "Indeed, since 2010, the patenting activity related to LiDAR for autonomous and robotic vehicles has shown an annual increase of 21%. Furthermore, while the IP landscape related to ADAS applications is consolidated, the robotic vehicles IP landscape is very competitive. For instance, the last 5 years have seen more than 50 newcomers entering the IP landscape related to high end LiDAR (solid state, 360° scanning, etc.) for 3D mapping."
A majority of OEM's integrates radar technology for new ADAS applications. Radar is often combined with other sensors as it provides valuable information to ensure better safety and helps in collision avoidance. OEM's demand is well supported by Tier1's offer with strong product portfolio. Analysts identified almost 50 active product references existing on the market. Market is very dynamic with strong competition and continuous product developments.
System Plus Consulting is strongly involved in the analysis of radar solutions. This year, the reverse engineering and costing company propose a detailed report on the world's first single-chip radar developed by Texas Instruments (TI): "Ahead of its competitors in RFCMOS applications, TI has begun manufacturing highly integrated radar sensor chips – the latest of which is the AWR1642," asserts Dr. Stéphane Elisabeth, Expert Cost Analyst, RF, Sensors & Adv. Packaging at System Plus Consulting. "But rather than integrating all transmitters, receivers, and local oscillators in a single chip, TI went further and integrated a MCU and a DSP on the same chip."
System Plus Consulting and Yole interviewed Sneha Narnakaje, Automotive Business Unit Manager at Texas Instruments to explore TI's innovative solution and detail TI's market positioning: Read more. In addition, a detailed description of numerous radar modules' analysis performed by System Plus Consulting's team is available on www.systemplus.fr. In parallel, semiconductor's manufacturers deliver high performance solutions that enable mm-Wave Radar to be operated in a reliable and accurate manner which is critical for safety functions. They propose a wide technology offer with GaAs, SiGe BiCMOS and RFCMOS platforms.
Innovative startups such as Metawave and Uhnder, bring disruptive technologies to the market to support high resolution sensor requirements either with ultra-thin steerable beam and AI engine for a deep learning approach or with unprecedented high channel number for high resolution imaging radar. Those innovations attract new comers in automotive radar field for instance with Magna and also well established players through the whole supply chain: Infineon Technologies, Denso, Toyota, Hyundai… It will certainly reshape the competition with the current leaders Continental and Bosch.
Regarding automotive 77 GHz radar chips, today it is mainly based on a 130nm SiGe platform, with NXP and Infineon Technologies as the top suppliers. RFCMOS technology is entering the market with semiconductor companies such as Texas Instruments with an intermediate technology node of 45nm. And technology scaling has started with Analog Devices offering products based on advanced 28nm CMOS nodes and also foundries that are positioning their advanced process capabilities in this ecosystem. For example, Globalfoundries and its 22FDX platform support innovative start up Arbe Robotics with a 4D high resolution radar for autonomous cars.
"It is exciting to see such a wide diversity of technology offerings, a clear confirmation of the automotive radar market's traction" comments Cédric Malaquin from Yole. "However, penetrating the automotive market with new technologies is no easy task. On the contrary, entering and maintaining a position in the automotive supply chain is a long, trust-based process."
"We are certainly entering a new "radar age", with many developments, disruptive technologies, and new entrants positioning this technology as the primary sensor – along with imaging (cameras) for ADAS and autonomous vehicles", comments Claire Troadec, Division Director, Power & Wireless Division at Yole.
WHERE TO MEET US?
System Plus Consulting and Yole Développement combine their expertise to propose relevant RF electronics presentations during the next few weeks. Save the date right now in your agenda:
AutoSens (From September 17 to 20 – Brussels, Belgium): "The automotive radar market" – Speaker: Cédric Malaquin from Yole.
Company's booth: #292
European Microwave Week (September 23-28 – Madrid, Spain): the partners propose you two significant presentations on September 26th during the workshop WW-02 Automotive Radar and HAD: "The automotive radar market" – Speaker: Cédric Malaquin from Yole. "Automotive Radar Technology and Cost Overview" – Stéphane Elisabeth from System Plus Consulting
Semicon Europa (November 13-16 – Munich, Germany): "5G – Who has the most to win (and lose)? – Speaker: Claire Troadec, from Yole.
Company's booth: A4667
Patent reports on the same technologies : MEMS, sensing, imaging.
---
Press contact
contact@knowmade.fr
Le Drakkar, 2405 route des Dolines, 06560 Valbonne Sophia Antipolis, France
www.knowmade.com
About our analyst
Olivier Thomas, MSc, Olivier works at Knowmade in the field of Biotechnology and Life Sciences. He holds an MSc in Molecular and Cellular Biology from Paris VI University (France). He also holds an Industrial Property International Studies Diploma in Patents and Trademarks from the CEIPI (Strasbourg, France).
About Knowmade
Knowmade is a Technology Intelligence and IP Strategy consulting company specialized in analysis of patents and scientific information. The company helps innovative companies and R&D organizations to understand their competitive landscape, follow technology trends, and find out opportunities and threats in terms of technology and patents.
Knowmade's analysts combine their strong technology expertise and in-depth knowledge of patents with powerful analytics tools and methodologies to turn patents and scientific information into business-oriented report for decision makers working in R&D, Innovation Strategy, Intellectual Property, and Marketing. Our experts provide prior art search, patent landscape analysis, scientific literature analysis, patent valuation, IP due diligence and freedom-to-operate analysis. In parallel the company proposes litigation/licensing support, technology scouting and IP/technology watch service.
Knowmade has a solid expertise in Compound Semiconductors, Power Electronics, Batteries, RF Technologies & Wireless Communications, Solid-State Lighting & Display, Photonics, Memories, MEMS & Solid-State Sensors/Actuators, Semiconductor Manufacturing, Packaging & Assembly, Medical Devices, Medical Imaging, Microfluidics, Biotechnology, Pharmaceutics, and Agri-Food.