SOPHIA ANTIPOLIS, France – March 12, 2020 | Microfluidics is a very dynamic technological field involving numerous technologies and having numerous applications (e.g. Healthcare, Biotech., the Environment, Microelectronics, etc.), and this domain sees the arrival of numerous startups every year. "Because of their small size and technological diversity, these young companies are hard to identify by conventional approaches (e.g. trade fairs, conferences, web searches, etc.), particularly for Chinese companies" affirms Olivier Thomas, MSc, Technology and Patent Analyst at Knowmade.
Knowmade has therefore investigated Microfluidics-related patents in order to identify startups through their patent filings. More than 50 recent startups were thus identified, and for each of them, the report entitled "Microfluidics Startup Identification" released in March 2020, describes their main activity, products, patents, and key people among their staff. Among these startups, several of them are very hard to identify without patent analysis, such as, for example, C-Luminary Biotech or Cellomics Biomedical.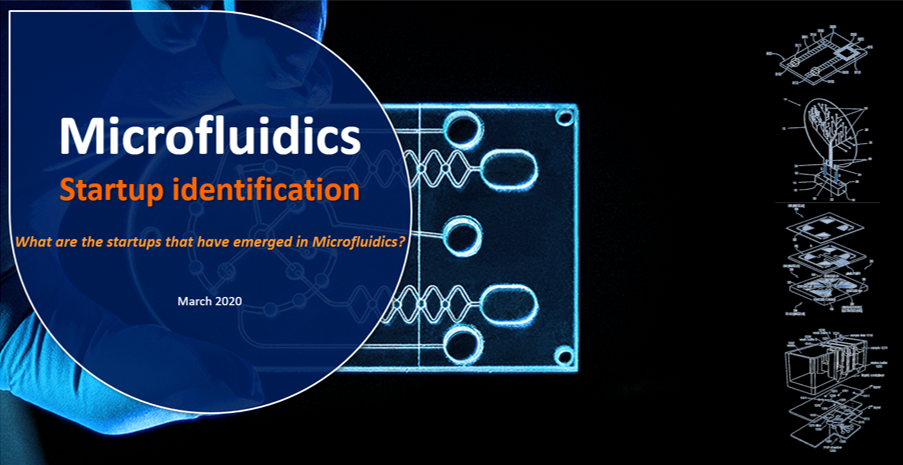 This study reveals that Oncology is by far the market explored the most by startups working in the field of Microfluidics. Diabetes, Neurology and the Environment are also markets of interest for some startups identified. The leading applications being Molecular Biology & Biochemistry assays, followed by cell separation & analysis, droplet processing and electrode-based biosensors. 46% of the startups that have been detected in this study are based in the USA, 19% in China, 19% in Europe, and about 40% of the startups are spin-off companies coming from universities. "Moreover, patent analysis is very useful for technology assessment and Company's key people/skill identification" says Olivier Thomas from Knowmade.
Technology is one of the keys to a startup's success and being able to understand and assess it is highly valuable. The specification of a patent document includes a lot of technical information that can be used to determine the advantages brought by new inventions. The patent claims can also be used to determine the protection the applicant is asking for, and therefore where its interest resides. Moreover, the success of a startup is strongly linked to the team that composes it. It is therefore important to know the founders and inventors to assess the odds of its success. Patents enable the identification of inventors inside the companies. These inventors are technical experts who have laid the foundation of the technology the startup is developing. Describing the background of key people can help in understanding the startup project, and their history can reveal the extent of the know-how they have accumulated.
Patent landscape reports in Life sciences field.
---
Press contact
contact@knowmade.fr
Le Drakkar, 2405 route des Dolines, 06560 Valbonne Sophia Antipolis, France
www.knowmade.com
About our analyst
Olivier Thomas, MSc, Olivier works at Knowmade in the field of Biotechnology and Life Sciences. He holds an MSc in Molecular and Cellular Biology from Paris VI University (France). He also holds an Industrial Property International Studies Diploma in Patents and Trademarks from the CEIPI (Strasbourg, France).
About Knowmade
Knowmade is a Technology Intelligence and IP Strategy consulting company specialized in analysis of patents and scientific information. The company helps innovative companies and R&D organizations to understand their competitive landscape, follow technology trends, and find out opportunities and threats in terms of technology and patents.
Knowmade's analysts combine their strong technology expertise and in-depth knowledge of patents with powerful analytics tools and methodologies to turn patents and scientific information into business-oriented report for decision makers working in R&D, Innovation Strategy, Intellectual Property, and Marketing. Our experts provide prior art search, patent landscape analysis, scientific literature analysis, patent valuation, IP due diligence and freedom-to-operate analysis. In parallel the company proposes litigation/licensing support, technology scouting and IP/technology watch service.
Knowmade has a solid expertise in Compound Semiconductors, Power Electronics, Batteries, RF Technologies & Wireless Communications, Solid-State Lighting & Display, Photonics, Memories, MEMS & Solid-State Sensors/Actuators, Semiconductor Manufacturing, Packaging & Assembly, Medical Devices, Medical Imaging, Microfluidics, Biotechnology, Pharmaceutics, and Agri-Food.