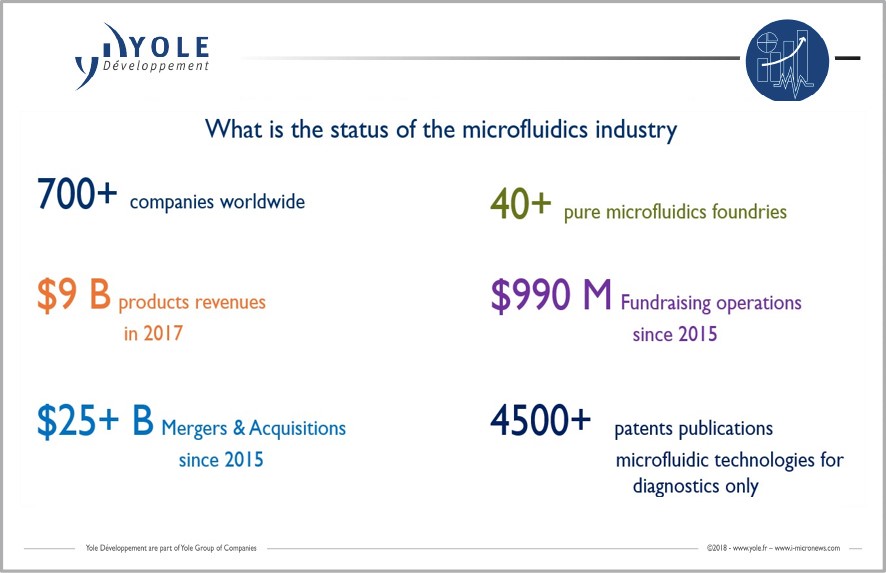 The market for microfluidic-based products is growing sharply. In its Status of the Microfluidics Industry report, Yole Développement values the 2017 market for microfluidic products at a $9B. Microfluidic technologies have finally found sweet spots and there are already credible options for the next upsurge. But there is also consolidation in the industry. All along the supply chain, companies are moving, diversifying their activities to capture value and/or remain competitive. Despite impressive growth for most microfluidics players some of them are experiencing hard times. This is the case for Fluidigm, which after years of impressive growth has seen its revenues decrease during the last two years.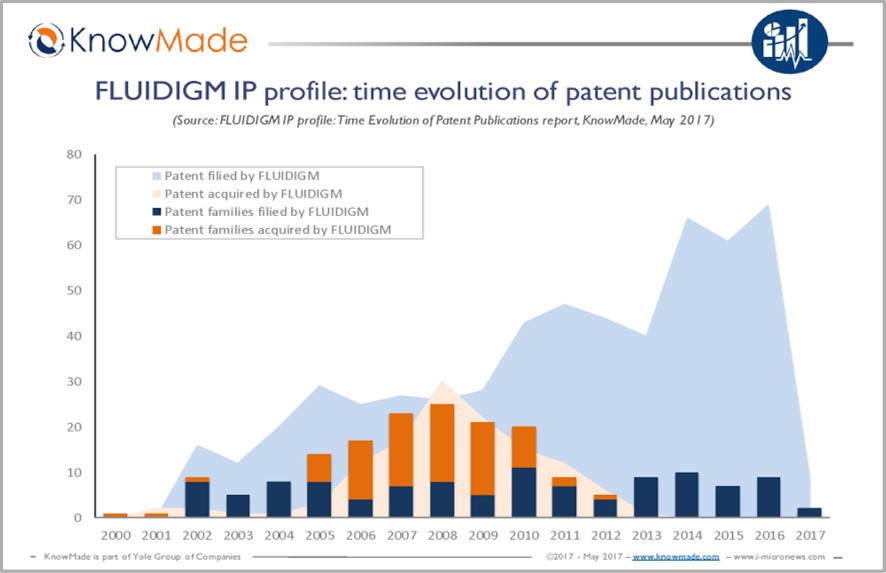 Fluidigm is considered as a pioneer in microfluidic technologies, in particular gene sequencing and genomics. In 2009, Fluidigm was described as "the world's leading manufacturer of microfluidic devices" by the Nanotechnology Business Journal. In its FLUIDIGM: Patent portfolio analysis report, Knowmade shows that Fluidigm started the development of its patent portfolio in the early 2000s. The number of new patents filed each year by Fluidigm has remained stable since then. However, recently its technologies and claimed inventions have evolved considerably. This shift can be correlated to its decrease in revenue. Combining their reports, Yole Développement and Knowmade reveal an interesting strategic shift by Fluidigm due to strengthening competition in its core technology. Will this repositioning allow Fluidigm to get back to growth? Yole Développement and KnowMade joined forces at Lab-on-a-Chip & Microfluidics 2017 in Munich to share their visions on the microfluidics industry's current adaptations.
Live from Lab-on-a-Chip & Microfluidics 2017 in Munich.
The 9th Annual Lab-on-a-Chip & Microfluidics conference is ongoing in Munich, with more than 300 delegates from around the world. This year, the congress features the emerging themes in microfluidics and point-of-care diagnostics and focuses on organs-on-chips — an emerging application for microfluidics. Select Biosciences maintains its leadership in organizing lab-on-a-chip focused conferences. It will continue to add new topics and tracks to follow the evolution of this industry, following its trajectory of innovation in technology development as well as applications in many areas. The conference is also the place where companies announce new technologies or product developments, such as Fluigent, who yesterday launched its new Flow EZ™ flow controller. Benjamin Roussel, MedTech Business Unit Manager at Yole Développement, gave an excellent talk yesterday about the microfluidics industry landscape. This complete overview with combined patent analysis and market analysis was appreciated by a large audience. The quantitative market analysis is an excellent complement to the scientific presentations at the congress and provides a framework for commercialization in this space. Select Biosciences and Yole Développement partner on several events and will be pleased to meet you at them in future. Please check here for agendas.
Innovations in the field of health are constantly monitored by KnowMade, discover our patent reports on this subject.
---
Press contact
contact@knowmade.fr
Le Drakkar, 2405 route des Dolines, 06560 Valbonne Sophia Antipolis, France
www.knowmade.com
About our analyst
Olivier Thomas, MSc, Olivier works at Knowmade in the field of Biotechnology and Life Sciences. He holds an MSc in Molecular and Cellular Biology from Paris VI University (France). He also holds an Industrial Property International Studies Diploma in Patents and Trademarks from the CEIPI (Strasbourg, France).
About Knowmade
Knowmade is a Technology Intelligence and IP Strategy consulting company specialized in analysis of patents and scientific information. The company helps innovative companies and R&D organizations to understand their competitive landscape, follow technology trends, and find out opportunities and threats in terms of technology and patents.
Knowmade's analysts combine their strong technology expertise and in-depth knowledge of patents with powerful analytics tools and methodologies to turn patents and scientific information into business-oriented report for decision makers working in R&D, Innovation Strategy, Intellectual Property, and Marketing. Our experts provide prior art search, patent landscape analysis, scientific literature analysis, patent valuation, IP due diligence and freedom-to-operate analysis. In parallel the company proposes litigation/licensing support, technology scouting and IP/technology watch service.
Knowmade has a solid expertise in Compound Semiconductors, Power Electronics, Batteries, RF Technologies & Wireless Communications, Solid-State Lighting & Display, Photonics, Memories, MEMS & Solid-State Sensors/Actuators, Semiconductor Manufacturing, Packaging & Assembly, Medical Devices, Medical Imaging, Microfluidics, Biotechnology, Pharmaceutics, and Agri-Food.