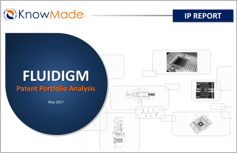 Fluidigm is taking a leading IP position in emerging microfluidic technologies.
Publication May 2017
Report's Key Features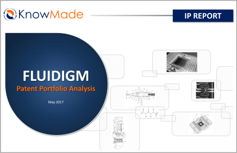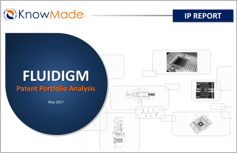 PDF >80 slides
Time evolution of patent publications and countries of patent filings
Current legal status of patents
Citation network, IP collaboration and competitive networks
Inventor identification
Key patent analysis
Patents recently expired
Granted patents near expiration
The report also provides an extensive Excel database with all patents analyzed in the study.
KnowMade Life sciences patent activity analyses. We are a company specializing in patent landscapes, helping decision-makers obtain useful technological and legal information.
---
Fluidigm has been highly innovative since the early 2000s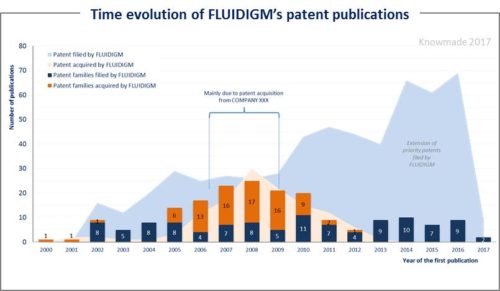 The microfluidics device market is currently growing, with a wide scope of applications across many industries. According to our partner Yole Développement, the microfluidics device market is worth $2.5 billion in 2017. With an expected compound annual growth rate of 18%, this market is projected to reach $5.8 billion by 2022. This high growth rate is largely due to advances in biotechnology, including gene sequencing and genomics. FLUIDIGM is considered as a pioneer in these microfluidic technologies. FLUIDIGM was founded in 1999 to market the integrated fluidic circuit based on a pneumatic rubber valve developed in the laboratory of Stephen Quake, then at Caltech. With this technology, FLUIDIGM became the first company to commercialize a digital polymerase chain reaction (PCR) product in 2006. In 2009, FLUIDIGM was described as "the world's leading manufacturer of microfluidic devices" by the Nanotechnology Business Journal. Today, among the applications in which FLUIDIGM products are put to use are single-cell genomics, gene expression, single nucleotide polymorphism (SNP) genotyping, targeted resequencing, sample quantitation, copy number variation and mass cytometry. FLUIDIGM started developing its patent portfolio in the early 2000s and the number of new patents filed each year by FLUIDIGM has remained stable since then. Moreover, FLUIDIGM acquired numerous patents from HELICOS BIOSCIENCES, DVS SCIENCES and ARCXIS BIOTECHNOLOGIES. In recent years, FLUIDIGM's total revenue has decreased. This decline in revenue was partly due to lower sales for genomic products. Therefore, in order to find new growth engines, technologies patented by FLUIDIGM have evolved considerably since its inception. This technological diversification exposes FLUIDIGM to new competitors, especially some big patent assignees that may assert their patents and other proprietary rights against FLUIDIGM.
Citation network and competitive IP environment
FLUIDIGM's patent portfolio has been cited by more than 700 patent assignees in more than 2300 patent families. For its part, FLUIDIGM cites 2600 patent families in its portfolio, representing around 900 assignees. Combining the citation network with the analysis of the content of citing/cited patents, FLUIDIGM's IP competitors have been ranked in order to establish a general view of the competitive IP environment. Thus IP competitors developing microfluidic technologies have been identified for various applications such as protein crystallization, next-generation sequencing (NGS) and digital PCR, single cell genomics or mass cytometry.
Identify blocking patents
Analyzing citations and citing applicants, FLUIDIGM's patents with a high potential for IP blocking of other patent applicants in the field of microfluidics have been identified. Most of those patents are related to single cell analysis or digital PCR. Several of these patents were acquired by FLUIDIGM from other companies, or co-filed with academics. The IP blocking power of product categories and applications claimed by FLUIDIGM was also analyzed.
Identify key patents
Key patents have been identified based on several indicators, including family size, legal status, citation analysis and impact on microfluidic technology. Newly granted patents, recently expired patents and patents expiring in the next few years have also been analyzed. Several patents were granted recently in the USA, Europe and China, in particular in the field of mass cytometry. This report also includes an Excel database containing all of the analyzed patents. This database allows for multi-criteria searches and includes patent publication number, hyperlinks to the original documents, priority date, title, abstract, patent assignees and legal status for each member of the patent family.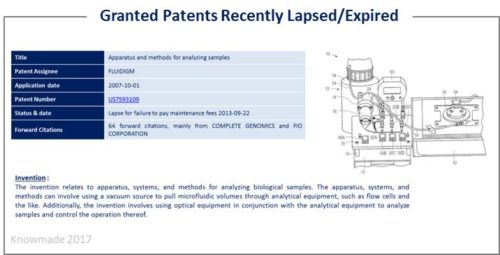 Assignees cited in the report
3M, ABBOTT, AFFYMETRIX, AGENA BIOSCIENCE, AGILENT TECHNOLOGIES, ARCXIS BIOTECHNOLOGIES, BD, BECKMAN COULTER, BIO-RAD, CALIPER, CALTECH, COMPLETE GENOMICS, DOW, DVS SCIENCES, FLUIDIGM, GE HEALTHCARE, GPB SCIENTIFIC, HANDYLAB, HELICOS BIOSCIENCES, HITACHI, HYALOS THERAPEUTICS, IBM, ILLUMINA, INTEGENX, LECO, LGC, LIFE TECHNOLOGIES, LUMINEX, NATERA, OPKO, PACIFIC BIOSCIENCES, PERKINELMER, PHILIPS, QUANTERIX, RAINDANCE, ROCHE, SEQLL, SEQUENOM, SHIMADZU, SIEMENS, SONY, THERMO FISHER SCIENTIFIC, UNIVERSITY OF BRITISH COLUMBIA, UNIVERSITY OF CALIFORNIA, UNIVERSTY OF CALIFORNIA