Status of the Rechargeable Li-Ion Battery Industry Report – Yole Développement | NMC Lithium-Ion Batteries Patent Landscape Analysis – KnowMade
OUTLINES:
The rechargeable lithium ion (Li-Ion) battery market will grow strongly and steadily with a 20% CAGR from 2016 – 2022.
E-mobility provides opportunities for players already present in the battery industry, but also from other industries.
The Li-Ion supply chain will be significantly reshaped.
NMC have become a key material for a wide range of battery applications. But who has the best IP position?
NMC battery ip activity is ramping up along with the market.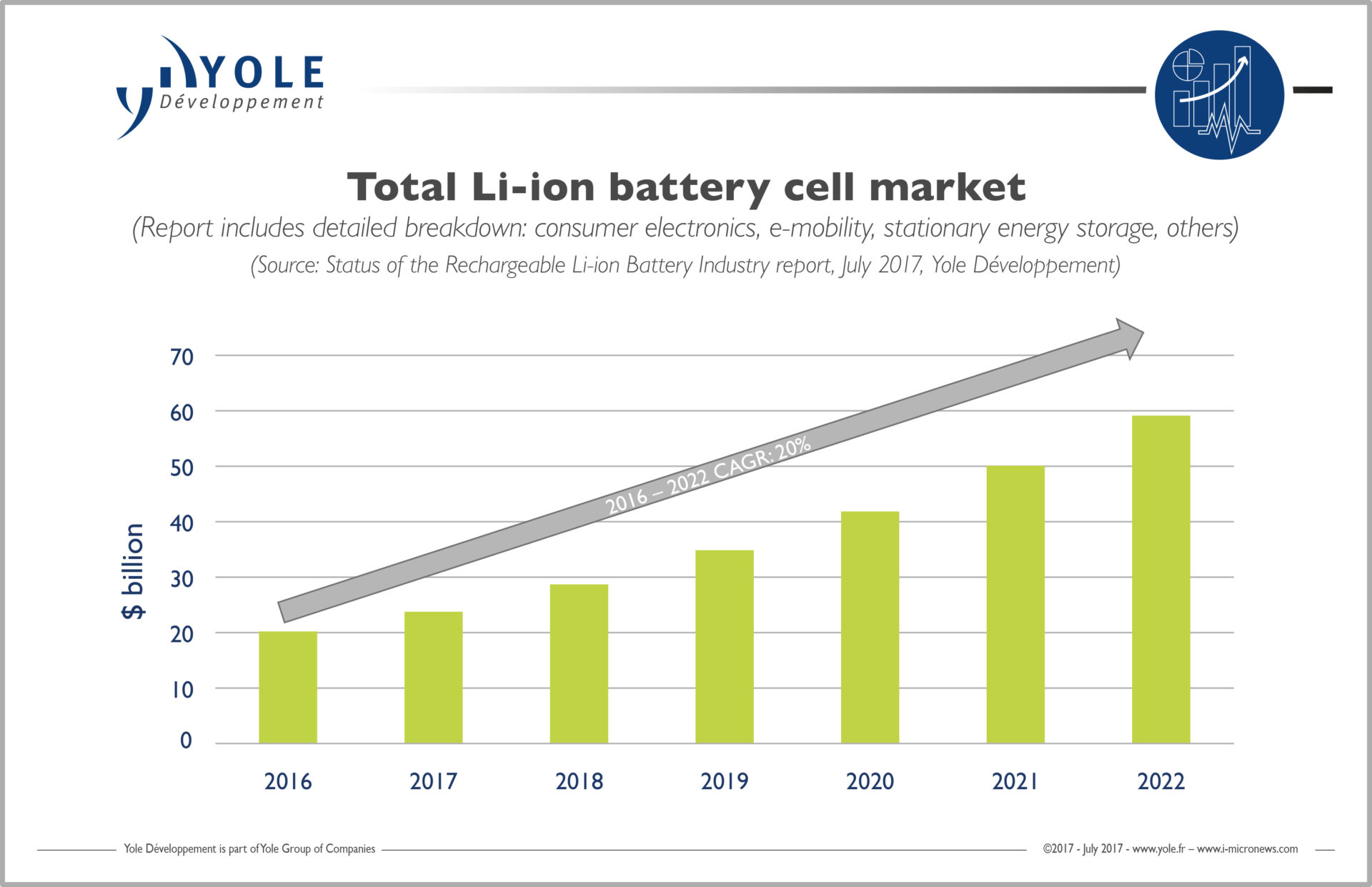 SOPHIA ANTIPOLIS, France – July 20, 2017 │ e-mobility has become the new Eldorado of the Li-ion batteries. Including EV/HEV, electric buses, trucks, and bikes, e-mobility overtakes consumer electronics market segment to represent 72% of the total rechargeable Li-ion battery cell market's value in 2022. Yole Développement (Yole) announces a US$59.1 billion total market in 2022, thanks to a 20% CAGR from 2016 to 2022. The "More than Moore" market research and strategy consulting company, Yole and its sister company KnowMade, both part of Yole Group of Companies release two technology, market and patent analyses focused on the Li-ion batteries industry. The technology & market report titled "Status of the Rechargeable Li-Ion Battery Industry" proposes a comprehensive overview of the Li-ion battery sector covering three main applications: consumer electronics, e-mobility and stationary energy storage. Supply chain ranging from raw material to cell components including manufacturing and testing equipment, market positioning, market evolution and more are part of this report. In parallel, KnowMade proposes a complementary report focused on NMC Lithium-ion batteries, one of the most booming technology in li-ion battery market. KnowMade's experts analyze the global NMC Lithium-ion batteries supply chain from a patent point of view. The technology intelligence and IP strategy-consulting company invites you to discover the main IP trends, the main patent applicants and the relative strength of their IP portfolios by supply chain segments and a comparison between their IP and market position. Li-ion batteries have become the technology of choice for many applications: initially developed for consumer electronics, Li-ion batteries technology progressively penetrates the e-mobility market segment, with impressive promises. Yole and KnowMade invite you to discover this new Eldorado…
"The global demand for battery cells in GWh will rise by more than 400% between 2016 and 2022", confirms Dr Milan Rosina, Senior Analyst, Energy Conversion & Emerging Materials at Yole. "Large manufacturing facilities will be built in coming years to satisfy such huge demand for Li-ion batteries" he adds.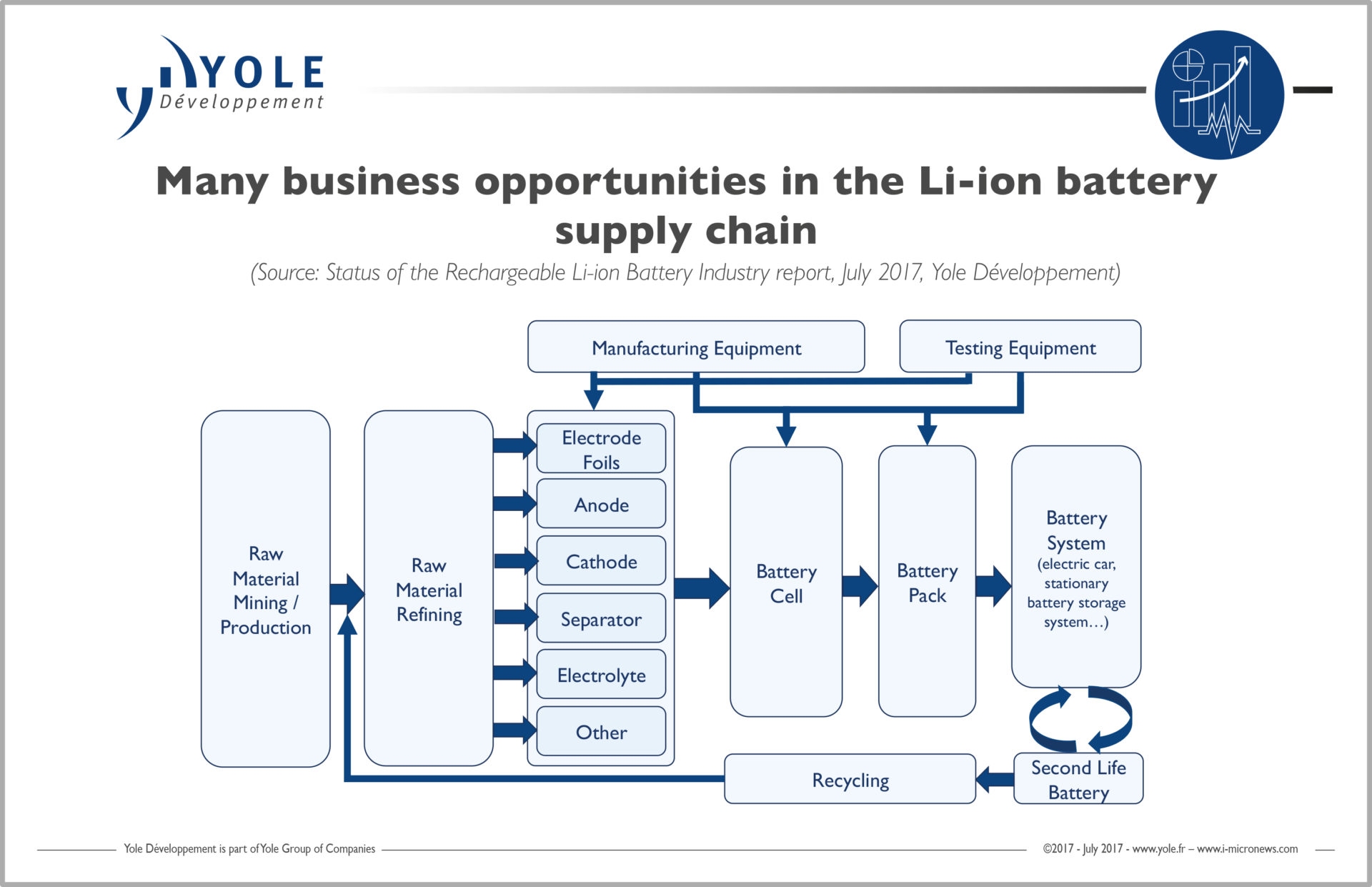 This growing demand is a real market opening and facilitates the entrance of new players. Therefore, Yole's analysts identify numerous business opportunities within the Li-ion supply chain, from raw material mining to material preparation including cell component production, cell manufacturing, integration of battery cells into battery packs and final battery systems. This trend also facilitates the implementation of lot of innovations focused on materials, equipment and processes. "The Li-ion industry might therefore experience accelerated technology consolidation and supply chain reshaping" comments Dr Rosina. The most critical materials used in the Li-ion battery industry are cobalt, lithium and graphite. From consumer electronic to e-mobility applications, technical requirements are different. One example is in the cathode material. LiCoO2 (LCO) is mainly used in consumer electronics and was the dominant Li-ion cell cathode material in the past. Today, the largest cathode material segment is NMC , which better matches with the huge EV/HEV market needs, as well as other main applications. The multiple license agreements and the recent patent war between BASF/University of Chicago (Argonne) and Umicore confirm maturity of the NMC market. Therefore, more and more material suppliers and cell makers today focus their activities on NMC technology.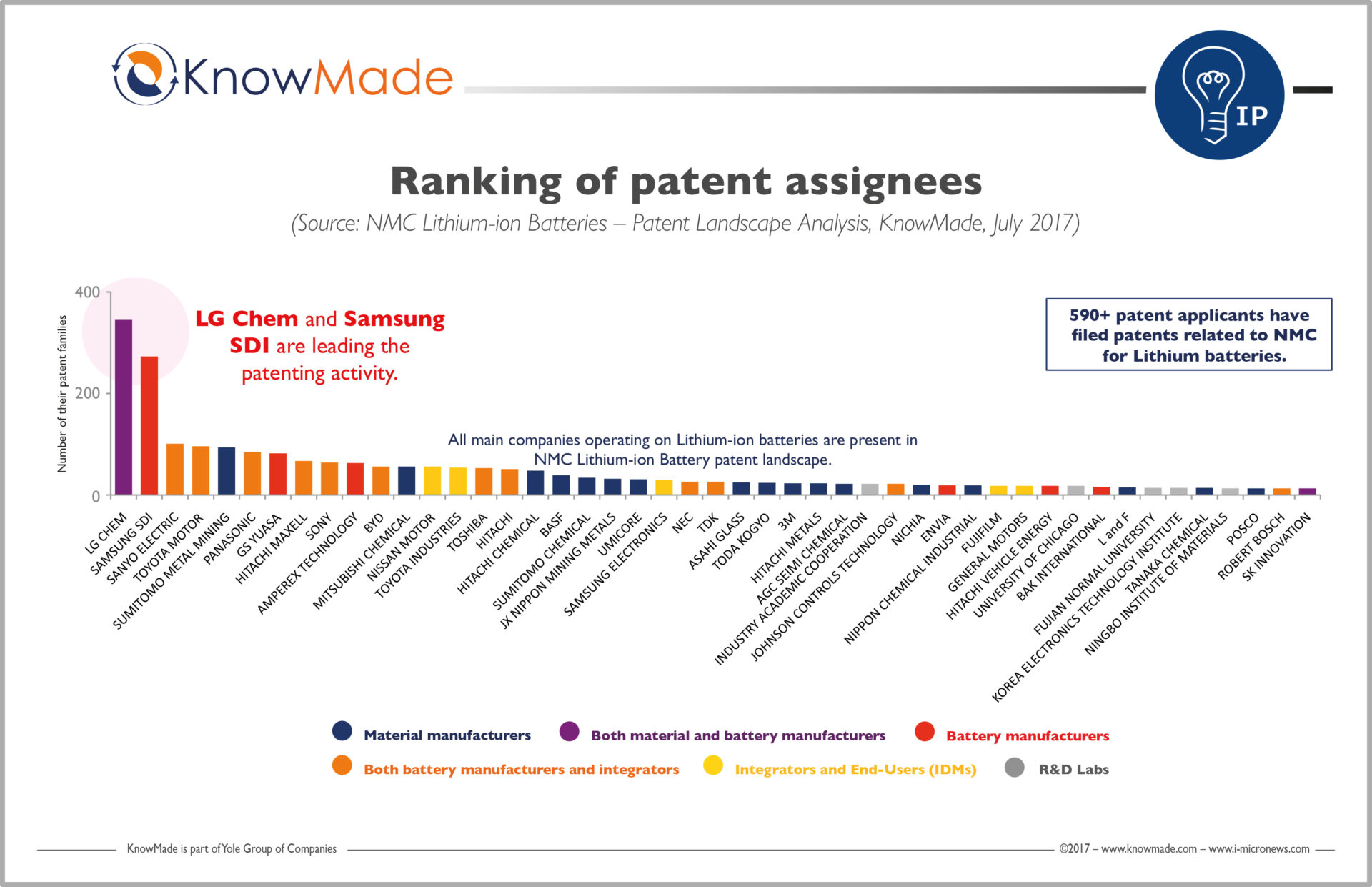 "The number of mergers and acquisitions, patent litigations and license agreements should increase due to the growing number of companies operating in NMC materials, especially Chinese companies", announces Nicolas Baron, CEO & Founder at KnowMade. Other figures and analyses of the strategy of leading companies detailed in KnowMade's patent landscape report confirm also the trend. For example, the number of enforceable patents is increasing worldwide, and several companies already stand out thanks to their strong IP position. "It is a critical time to understand the global competitive environment of NMC lithium-ion batteries from a patent perspective", comments Dr Fleur Thissandier, Patent Analyst at KnowMade. "Therefore in-depth patent analyses of key technologies and players can help anticipate changes, detect business opportunities, mitigate risks and make strategic decisions to strengthen one's market position and maximize return on one's IP portfolio." More than 3,300-patented inventions have been published worldwide up to March 2017 by more than 590 applicants.
A detailed description of both reports is available on KnowMade website Batteries & Energy Management reports section.
Acronyms:
e-mobility: electronic mobility
EV/HEV: Electric and Hybrid Electric Vehicles
CAGR: Compound Annual Growth Rate
NMC: LiNixMnyCozO2
All our Battery technologies patent reports.
---
Press contact
contact@knowmade.fr
Le Drakkar, 2405 route des Dolines, 06560 Valbonne Sophia Antipolis, France
www.knowmade.com
About our analyst
Olivier Thomas, MSc, Olivier works at Knowmade in the field of Biotechnology and Life Sciences. He holds an MSc in Molecular and Cellular Biology from Paris VI University (France). He also holds an Industrial Property International Studies Diploma in Patents and Trademarks from the CEIPI (Strasbourg, France).
About Knowmade
Knowmade is a Technology Intelligence and IP Strategy consulting company specialized in analysis of patents and scientific information. The company helps innovative companies and R&D organizations to understand their competitive landscape, follow technology trends, and find out opportunities and threats in terms of technology and patents.
Knowmade's analysts combine their strong technology expertise and in-depth knowledge of patents with powerful analytics tools and methodologies to turn patents and scientific information into business-oriented report for decision makers working in R&D, Innovation Strategy, Intellectual Property, and Marketing. Our experts provide prior art search, patent landscape analysis, scientific literature analysis, patent valuation, IP due diligence and freedom-to-operate analysis. In parallel the company proposes litigation/licensing support, technology scouting and IP/technology watch service.
Knowmade has a solid expertise in Compound Semiconductors, Power Electronics, Batteries, RF Technologies & Wireless Communications, Solid-State Lighting & Display, Photonics, Memories, MEMS & Solid-State Sensors/Actuators, Semiconductor Manufacturing, Packaging & Assembly, Medical Devices, Medical Imaging, Microfluidics, Biotechnology, Pharmaceutics, and Agri-Food.