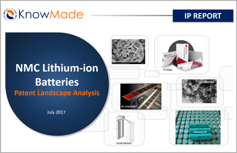 Lithium Nickel-Manganese-Cobalt (NMC) Oxides have become a key material for a wide range of battery applications – but who has the best IP position?

Publication July 2017
Report's Key Features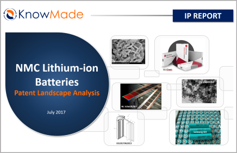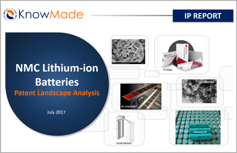 PDF >180 slides
Excel file >8,980 patents
IP trends, including time evolution of published patents and countries of patent filings.
Current legal status of patents.
Ranking of main patent applicants by supply chain segment.
Joint developments and IP collaboration networks of main patent applicants.
Key patents and granted patents near expiration by supply chain segment.
Relative strength of the main companies' IP portfolios by supply
chain segment.
Matrix showing patent applicants and their patented technologies.
Segmentation of patents by supply chain position, including precursor, material, electrode and battery producers, and by type of NMC materials, including non-modified, modified by cation or anion substitution, mixed with other active materials like LiMO2, LiMO3, LiMO4, LiMPO4, oxide or fluoride materials, carbon or polymer, and core-shell materials.
IP position versus market position for each key player.
Excel database with all patents analyzed in the report, including technology segmentation.
All KnowMade battery patent landscape analyses. This is a key analysis, one of several types of patent analysis KnowMade has mastered. Find all of them on our Custom Studies page.
---
NMC battery IP activity is ramping up along with the market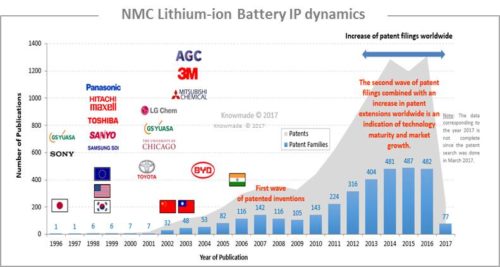 Since their development in the early 1990's, lithium-ion batteries have become an essential energy storage device for a wide range of applications, including electronic devices, stationary storage and electric vehicles. Using Lithium Nickel-Manganese-Cobalt Oxides (NMC, NCM or LiwNixMnyCozO2) in lithium-ion batteries provides high power and energy densities and thermal stability. NMC materials can be tailored to reach a wide range of charge and thus can be used in various types of batteries. According to Yole Développement, NMC materials will dominate the global lithium-ion battery market. They should reaching about 51% of the global cathode material market by 2022, driven by the increasing demand for electrical vehicle applications, according to Yole's "Status of the Rechargeable Li-ion Battery Industry" report, published in July 2017. The multiple license agreements and the recent patent war between BASF/University of Chicago (Argonne) and Umicore indicate market maturity. The number of mergers and acquisitions, patent litigations and license agreements should increase due to the growing number of companies operating in NMC materials, especially Chinese companies. The number of enforceable patents is increasing worldwide, and several companies already stand out thanks to their strong IP position. Therefore, it is a critical time to understand the global competitive environment of NMC lithium-ion batteries from a patent perspective. In-depth patent analyses of key technologies and players can help anticipate changes, detect business opportunities, mitigate risks and make strategic decisions to strengthen one's market position and maximize return on one's IP portfolio. For this report, we investigated the global patent landscape of NMC Lithium-ion Batteries including precursor, material, electrode and battery manufacturing issues, and all types of NMC materials, whether unmodified, modified, core-shell, or mixed with other active or inactive materials.
More than 3,300 patented inventions have been published worldwide up to March 2017 by more than 590 applicants. The first patents on NMC Li-ion batteries were filed by Japanese and Korean companies including Sony, Samsung and LG Chem in the late 1990s. The first main wave of patent publications occurred in 2000s, induced by the emergence of material manufacturers like AGC, Mitsubishi Chemical, Sumitomo Metal Mining, 3M, BASF, Umicore, Chinese battery manufacturers BAK and BYD, and universities. Since then, patent publications have increased strongly thanks to a intense patenting activity from Japanese, Chinese and Korean battery and material manufacturers, and the emergence of electric vehicle constructors like Nissan, Toyota, BMW and Chery. The second wave of patent filings combined with an increase in patent extensions worldwide is an indication of technology maturity and market growth. Currently, more than 4,000 patents have been granted, mainly in Japan and China, and more than 3,600 patent applications are pending, mainly in the USA and China.
Know key players' IP positions
More than 590 patent applicants can be found on the NMC Lithium-ion Battery patent landscape. The IP position of key players has been evaluated for precursor, material, electrode and battery manufacturing issues. For each of them, the report provides a ranking and analysis of the relative strength of the top patent holders derived from their portfolio size, patent citation network, countries of patent filings and current patent legal status. We reveal the IP strength of the key IP players involved in NMC Lithium-ion Batteries and we depict their competitive IP positions. A special focus has been placed on the main patent litigation, collaborations and license agreements related to NMC materials.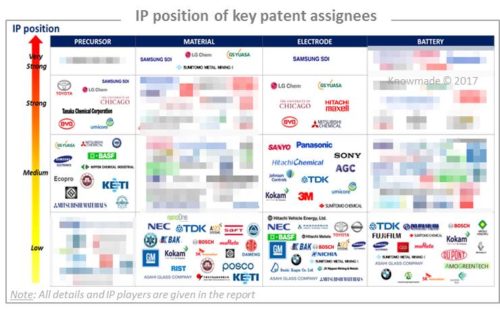 Understand patented technology and IP strategy
In this report, we reveal the IP strategy and the technical choices of the main patent assignees. For each supply chain segment, including precursor, material, electrode and battery, the report includes the description of key technologies, the time evolution of patent applications, the main patent assignees and their filing countries, the key patents, the patents near expiration date and the recent patented technologies. For each supply chain segment, the >3,300 patented inventions selected for this study have been categorized by type of NMC materials, such as non-modified, modified by cation or anion substitution and mixed with other active materials.


Compare IP and market position
The report compares the main IP players and main market players. For each of them, it highlights the discrepancies between their market position and their IP position regarding the supply chain – whether they make precursor, material, or batteries – and the type of NMC material, such as un-modified, modified, or core-shell. The main market players are not always the main IP players.
Useful patent database (>8,980 patents)
The report also includes an Excel database containing the >8,980 patents and patent applications analyzed in the study. This useful patent database allows multi-criteria searches and includes patent publication number, hyperlinks to the original documents, priority date, title, abstract, patent assignees, technological segments and legal status for each member of the patent families.
Companies mentioned in the report
3M, A123 Systems, AGC, Amperex, Automotive Energy Supply, Bak, BASF, BMW, Boston Power, BYD, Chery Automobile, FAW Automobile, Denki Kogyo/Denka, Denso, Donguan Kaixin Battery Material, DuPont, Easpring Material Technology, Ecopro, Envia, General Motors, GS Yuasa, Hitachi, Honda, Huawei, Jinhe New Materials, Johnson Controls Technology, JX Nippon Mining Metals, Kokam, L&F, Leneng Battery, Leyden Energy, LG Chem, Li-Tec Battery, Mitsubishi, Mitsui Mining & Smelting, Murata Manufacturing, Nano One Materials, Nec, Ningxia Orient Tantalum Industry, Nippon Chemical Industrial, Nissan, Panasonic, Posco, Renault, Reshine New Material, Robert Bosch, SAFT, Samsung SDI, Sanyo Electric, Seeo, SEL, SK Innovation, Solvay, Sony, Sumitomo, Tanaka Chemical, Techelios, Toda Kogyo, Toray Industries, Toshiba, Toyota, University of Chicago, Umicore and more.