Extracted from: LiDARs For Automotive And Industrial Applications 2018, Yole Développement, May 2018 – LiDAR For Automotive Patent Landscape, Knowmade, April 2018
OUTLINES:
Will automotive change the LiDAR market? Will LiDAR reach the automotive mass-market?
LiDAR: the automotive market segment is showing an impressive diversity of technologies.
Autonomous driving is a huge opportunity for LiDAR.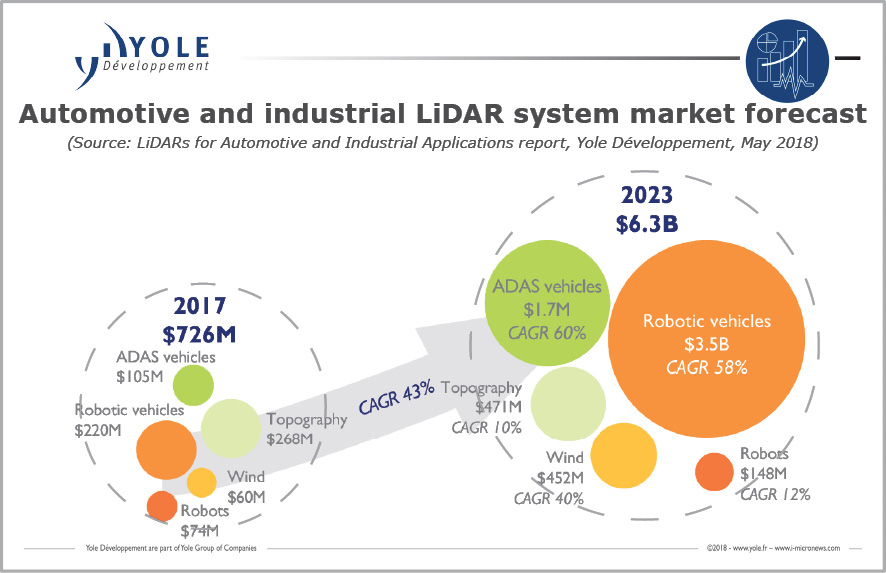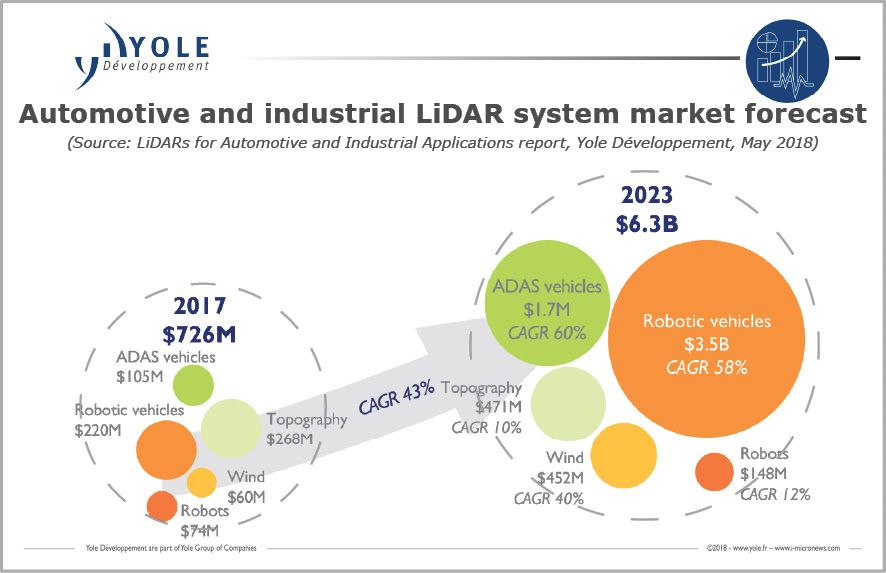 Sophia Antiolis, France – May 16, 2018: According to Yole Développement, the global LiDAR[1] systems' market for automotive applications, is showing an impressive growth between 2017 and 2023. From US$726 million to US$5 billion, it should reach a huge 43% CAGR[2] during this period. In addition, the growth should continue until 2032 with a US$ 28 billion market value, for the automotive market segment only. Today, LiDARs and new applications are developing simultaneously. Thus the LIDAR market is directly linked to the development of ADAS[3] solutions and robotic vehicles. Both domains show high growth rates and tremendous enthusiasm.
Yole's analysts announce so huge opportunities in the automotive sector but not only. Indeed diverse industries such as aerospace, archaeology, construction, and wind farms and more will be also part of the market landscape.
Yole Group of Companies including Yole and Knowmade, proposes a comprehensive analysis of the LiDAR market with two dedicated reports. Analysts combine their expertise and their knowledge of the different industries, to understand the technical challenges and identify market issues.
The market research and strategy consulting company, Yole invites you to discover the LiDAR industry for automotive and industrial applications: LiDARs For Automotive & Industrial Applications. Under this new analysis, the company presents the market evolution in volume and in value, from system to components. It also details a deep understanding of the potential business opportunities for each player, on each part of the supply chain.
To complete this market & technology approach, Knowmade publishes a relevant report describing the LiDAR IP landscape for automotive applications: LiDAR for Automotive Patent Landscape. Knowmade's IP analysts highlight the latest IP trends, as well as the current legal status. They also proposes a comprehensive review of the main patent assignees with its ranking. According to Knowmade, through January 2017, more than 30,000 inventions related to LiDAR have been published worldwide. In its report, Knowmade has so selected and thoroughly investigated the 6,480+ inventions related to automotive applications. Thanks to their expertise, Knowmade's analysts disclose an impressive analysis of promising LiDAR technologies for automotive applications and related main players' IP portfolios.
Which LiDAR technologies is today the most attracting in term of performances and cost? What is the status of LiDAR technologies penetration in the automotive sector, compared to existing solutions? Yole Group's analysts offer you today a snapshot of the LiDARs market.
"In the past two years, more than US$800 million has been invested in LiDAR companies" announces Alexis Debray, Technology & Market Analyst at Yole. "Therefore, there is clearly a strong excitement around these technologies."
But is it a dream? Or could we think about a real market potential? Some companies, despite being created only a few years ago, have received millions in investments. For example, Blackmore, founded in 2016, recently received US$18 million from BMW and Toyota. And Quanergy, launched in 2012, received US$180 million in 2017. Such investments testify to LiDAR technologies' immaturity. Start-ups, industrial players, Tier1s, and automotive OEMs are all investing in different approaches with no guarantee of success – but this is the price they must pay for a chance to be part of the automotive grade market for LiDAR technologies, seen by many as the "Holy Grail".
On the technology side, diversity is the key word. Therefore the range of offers is equally impressive. Most current products, such as those proposed by Velodyne, use a macro-mechanical scanning of laser beams at wavelengths between 830 – 940 nm. However, MEMS scanners are expected to be the next evolution of automotive LiDAR, promising to be smaller and cheaper. The next step after this should be the optical phased-array, as proposed by Quanergy, in which no moving part is present – thus becoming even cheaper, smaller, and safer. This technology stems from optical fiber communications. Some players like Continental and Xenomatix propose flash LiDAR, in which the whole scene is illuminated simultaneously with no moving part. Other players propose different solutions: Cepton and Luminar have revealed mechanical scanning technologies, while Neptec employs Risley prisms. Although many players use a wavelength from 830 – 940 nm because corresponding optical components are more widespread, some are investigating the 1550 nm wavelength for which a higher laser power can be used, because the laser maximum's permissible exposure is roughly 100x higher and also because dust robustness is better. These players include Blackmore, Neptec, Aeye, and Luminar.
And the diversity continues, with most LiDAR development companies using a direct LiDAR type called pulse LiDAR, in which a pulse of light is sent to the target; the time it takes to return to the photodetector confirms the distance. A few companies are investigating continuous-wave ranging methods which allow for heterodyne detection, and therefore much higher sensitivity. IFM and Benewake are investigating the phase-shift ranging method, while Blackmore and Oryx are investigating the frequency modulation ranging method.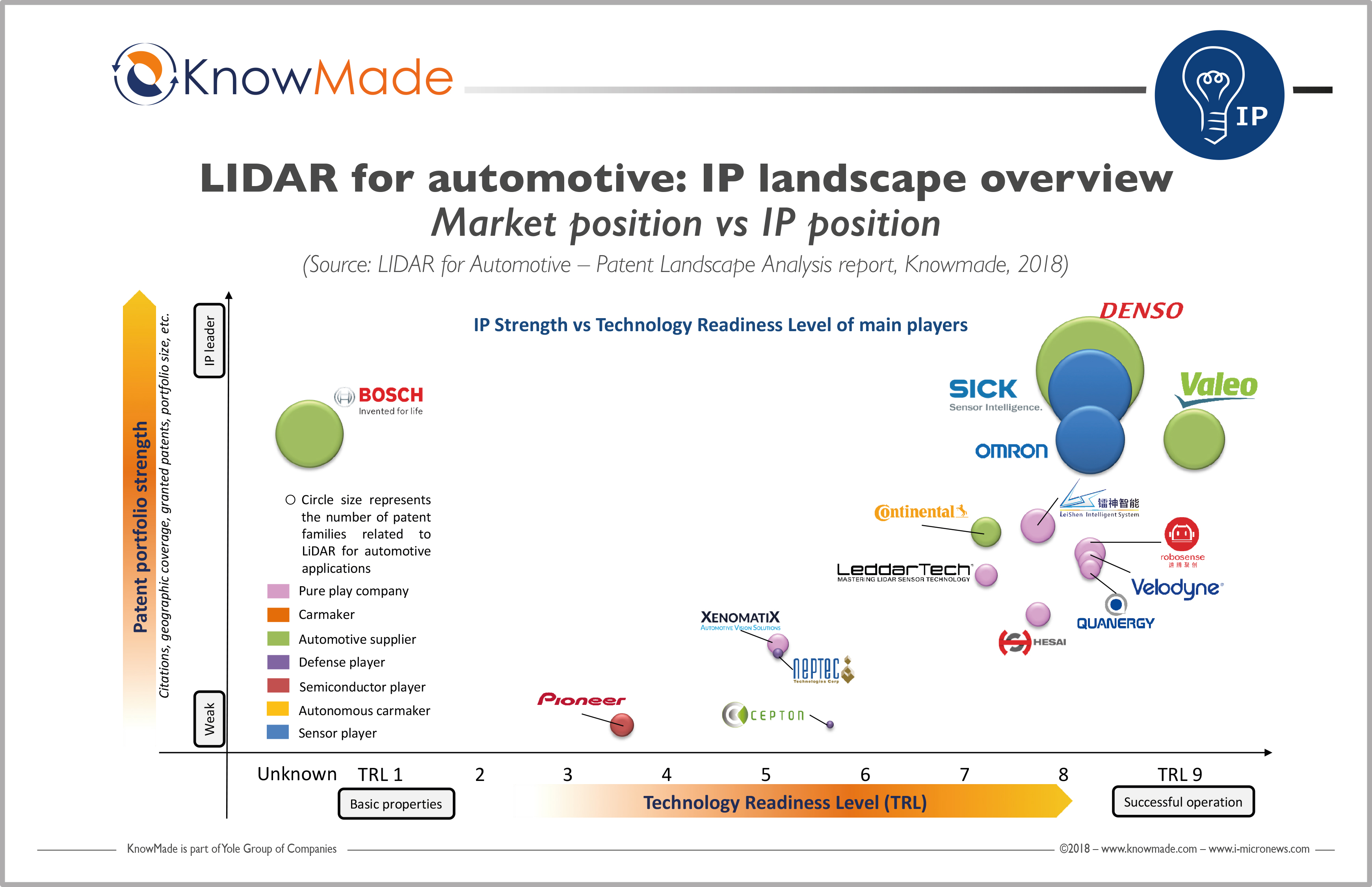 This diversity is also visible through Knowmade's results. The technology intelligence & IP Strategy consulting company identified newcomers and evaluated their portfolio strengths and weaknesses. The team also analyzed the patented technologies, current IP strategies. A dedicated ranking is today available in Knowmade IP report.
"The IP landscape is dominated by Tier1s, and automotive OEMs players that have contributed to the development of LiDAR for ADAS applications (parking assistance, anti-collision alarms, etc.)" explains Dr. Paul Leclaire, IP Analyst at Knowmade. "Among the top 5 patent assignees, 4 are Japanese including Denso, Mitsubishi, Nissan and Toyota. Main Japanese players are automotive manufacturers."
Today, these historical IP players are being more and more challenged by multinational group that cover many domains such as electronic, materials, embedded system, etc. and startups … Dr. Leclaire has been recently interviewed by Junko Yoshida from EETIMES and reveals the main trends and players strategy. Full interview is today available on i-micronews.com.
Description of both reports, LiDARs For Automotive & Industrial Applications report from Yole and LiDAR for Automotive Patent Landscape from Knowmade are available on respectively both corporate websites: www.knowmade.com and i-micronews.com.
In addition, Yole Développement and its partner CIOE are pleased to announce the 1st Executive Forum on LiDAR for Automotive on September 6 in Shenzhen, China. This Forum is the first one focused on LiDAR technologies. Today, LiDAR is a key technology for redundant sensing, supporting cameras and radars with object recognition, distance estimation and 3D mapping. Make sure you will attend this event and register today on i-micronews.com.
To get more information about the agenda and speakers, contact Julie Robert, MarCom Assistant at Yole. Stay tuned with Yole's Events!
[1] LiDAR : Light Detection and Ranging
[2] CAGR : Compound Annual Growth Rate
[3] ADAS : Advanced Driver-Assistance System
Stay up to date and subscribe to our mailing list: Click here