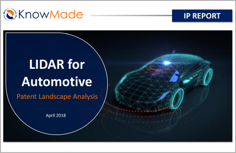 From ADAS to autonomous and robotic vehicles, what are the LiDAR technologies and related IP of automotive industry players?

Publication April 2018
Report's Key Features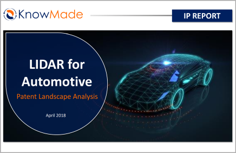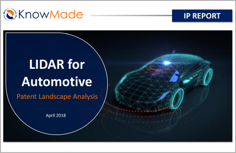 PDF > 220 slides
Excel file > 12,800 patents
IP trends, including time-evolution of published patents, and countries of patent filings
Patents' current legal status
Ranking of main patent assignees
Promising technologies IP analysis: VCSEL, LED, APD, SPAD, MEMS mirrors, flash LIDAR
Key patents and granted patents nearing expiration, by technology
segment
Key players' IP position and relative strength of their patent portfolios
Newcomers IP profile: Quanergy, Luminar Tech., Xenomatix, Hesai Photonics, Leishen Lidar, Robosense, Ricoh
Key players IP profile: Velodyne, Denso, Bosch, Valeo, Toyota, Uber, Waymo
Excel database containing all patents analyzed in the report, including technology segmentation
KnowMade has a range of MEMS patent reports that can be useful to R&D managers. We are specialists in patent landscapes, among others.
---
Lidar for automotive – IP dynamics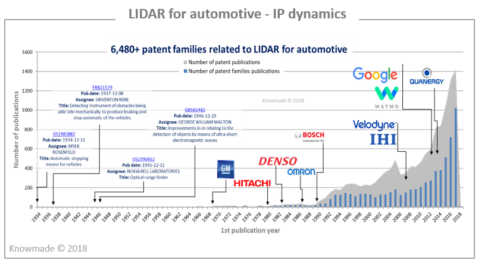 The automotive sector is changing. After being crippled by the 2008 financial crisis, it has risen from the ashes and commenced its own revolution. Indeed, for more than 4 years years the automotive industry has been discussing new mobility solutions based on autonomous vehicles, shared mobility, connectivity, and electrification. Among these four axes, autonomous vehicles (i.e. driverless vehicles and robotic vehicles) is the most disruptive technology. Indeed, with self-driving vehicles the road will be safer, the journey more comfortable, and traffic jams minimized. To achieve this goal, the industry is rapidly evolving. Driver assistance systems (ADAS) are today well-integrated, with partial automated driving already available and self-driving cars being tested in real-world environments. However, along with the trend towards self-driving come new technical challenges with regard to surround sensors, actuators, and the vehicle's electrical/electronic architecture.
LIDAR (light detecting and ranging) appears to be the best solution for these challenges. The technology has already proven its accuracy and reliability in ADAS applications. Moreover, LIDAR's increasing power and portability are being embraced as it is integrated into new, exciting functions like 3D mapping and car-surround sensors.
Today, LIDAR technologies and new automotive applications are developing simultaneously. Thus the LIDAR market is linked to the development of ADAS and robotic vehicle applications. Both domains show high growth rates and tremendous enthusiasm. Consequently, the LIDAR market is one of the automotive industry's fastest-growing sectors, with an annual growth of 42% from 2018 – 2028 expected by Yole Développement.LIDAR-related patent activity began in the late '80s amongst Japanese automotive players. This first wave of IP players, composed of Japanese and European car manufacturers and suppliers, contributed to the development of LIDAR for ADAS applications. Since 2010, the IP landscape related to LIDAR for automotive has seen a strong increase. The swift development of autonomous vehicles has opened many opportunities, with the established/strongest IP players increasingly challenged by new pure players and international companies entering the IP landscape.
Report's scope
Through January 2017, more than 30,000 inventions have been published worldwide. In this report, Knowmade has selected and thoroughly investigated the 6,480+ inventions related to LIDAR for automotive applications. These patents were filed by more than 2,230 patent applicants. This report also provides a deep analysis of patents related to promising technologies and main players' IP portfolios.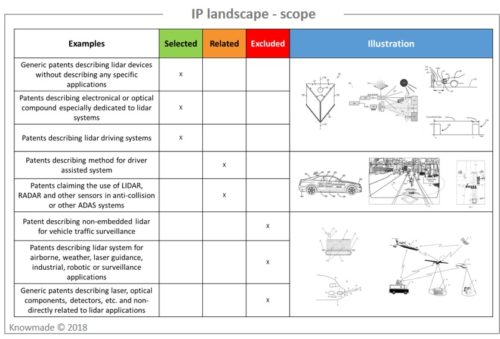 Report's main assets
Identifying the newcomers and evaluating their portfolios' strengths and weaknesses
In this report, Knowmade discusses the more than 35 newcomers that have entered the IP landscape in the last seven years. Nine newcomer IP profiles are analyzed within, based on their market position, portfolio size, and IP activity growth. Links between patents and products are also provided.
Understanding the key players' patented technologies and current IP strategies
More than 2,200 patent applicants are involved in the LIDAR for automotive patent landscape. This report reveals the IP position of key players through a detailed analysis of their patent portfolios. We also provide an understanding of these players' patented technologies, their IP strategy, and their capability to limit other firms' IP activity and freedom-to-operate. Moreover, we discuss the relative strength of the top patent owners as derived from their patent portfolio sizes, technological impact factors, geographic coverage, blocking potential, and most valued patents.
Analyzing IP players' position on promising technologies and their main inventions
This report provides an understanding of IP players' positions on promising technologies. The corpus is segmented between VCSELs, LED, APD, SPAD, flash LIDAR, and MEMS mirrors-related patents. Each segment's main IP players and key patents are presented, along with an understanding of the current technical challenges addressed in the patents.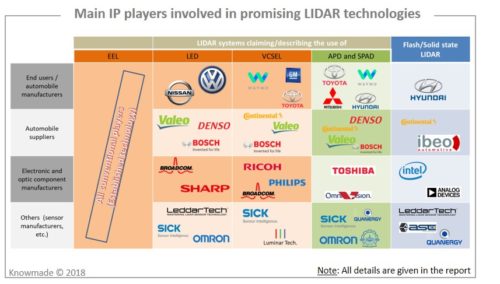 Useful patent database
This report also includes an Excel database with the >12,800 patents and patent applications analyzed in this study. This useful patent database allows for multi-criteria searches and includes patent publication numbers, hyperlinks to the original documents, priority date, title, abstract, patent assignees, patent's current legal status, and technological segments.
Companies mentioned in this report (non-exhaustive list)
Denso, Mitsubishi, Bosch, Nissan, Toyota, Sick, Daimler, Omron, General Motors, Valeo, Ford, Honda Motor, Hyundai, Continental, Mazda Motor, Sanyo, Ricoh, BMW, Daihatsu, Waymo, Hitachi, Volkswagen, Contitemic Microelectonic, Nec, Panasonic, Google, Audi, Nikon, Fujitsu, Changan University, Kansei, Ibeo Automobile, Volvo, Chery Automobile, Shenzhen Leishen Intelligent Systems, Sharp, Hokuyo Automatic, Shiny Technology, Uber, Velodyne, Qualcomm, Shanghai Slamtec, Beijing Wanji Technology, BASF, Philips, Fraunhofer, Zoox, Quanergy Systems, Apple, Texas Instruments, LG Innotek, Scania, Qinetiq, Luminar Technologies, Hesai Photonics, Robosense, and more.