SOPHIA ANTIPOLIS, France – June 14, 2019: Abcellera's patent involved in its collaboration with Gilead in infectious disease.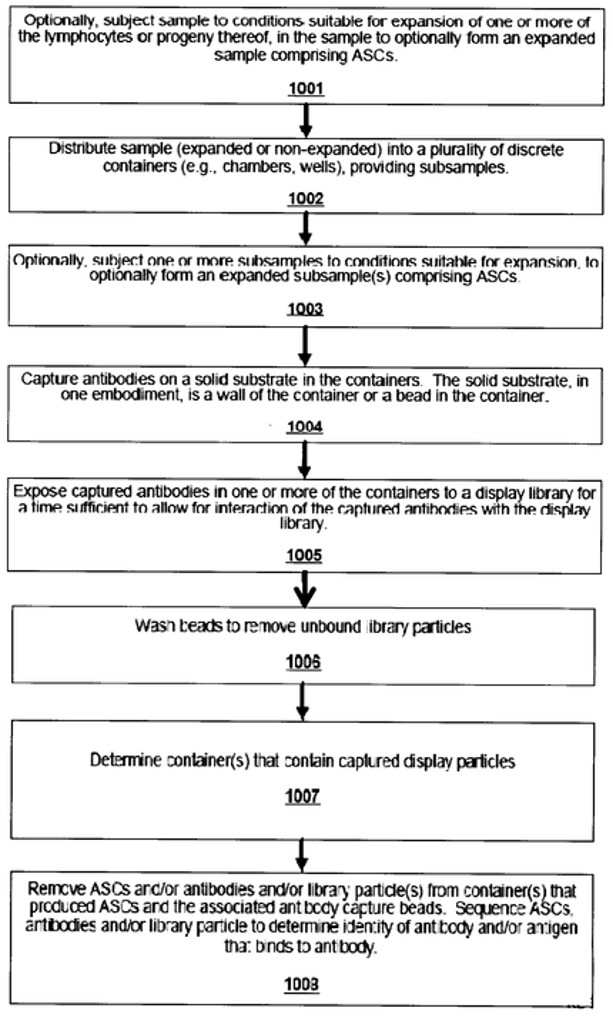 AbCellera has announced a partnership with Gilead to discover antibodies for infectious disease. AbCellera will apply its expertise in single-cell screening of natural immune sources to generate rich panels of antibody candidates for evaluation by Gilead. Gilead is the latest big pharma company to ink an antibody discovery deal with AbCellera.
In its patent monitoring service dedicated to microfluidic technologies, Knowmade has identify that this technology is related to the patent WO2017106958 filed by The University of British Columbia (Highly parallel assays for simultaneous identification of antibody sequences and binding partners) and published in 2016. Inventors of this patent are Falconer Ester (Group leader – AbCellera), Hansen Carl (Director & CEO – AbCellera), Lecault Veronique (Director – AbCellera), Lisaingo Kathleen (Group leader – AbCellera) and Heyries Kevin (Business Development & Strategy – AbCellera).
The invention relates to methods for isolating the sequences of an antibody that reacts with a disease related antigen, e.g., an autoantigen, without knowing the identity of the antigen (sequence or structural epitope) a priori. The methods can also be used to identify an antigen that mediates a disease state, e.g., an autoantigen implicated in an autoimmune disorder or a tumor response. This patent application is currently pending in Europe and Canada.
Related KnowMade's life sciences patent reports.
---
Press contact
contact@knowmade.fr
Le Drakkar, 2405 route des Dolines, 06560 Valbonne Sophia Antipolis, France
www.knowmade.com
About Knowmade
Knowmade is a Technology Intelligence and IP Strategy consulting company specialized in analysis of patents and scientific information. The company helps innovative companies and R&D organizations to understand their competitive landscape, follow technology trends, and find out opportunities and threats in terms of technology and patents.
Knowmade's analysts combine their strong technology expertise and in-depth knowledge of patents with powerful analytics tools and methodologies to turn patents and scientific information into business-oriented report for decision makers working in R&D, Innovation Strategy, Intellectual Property, and Marketing. Our experts provide prior art search, patent landscape analysis, scientific literature analysis, patent valuation, IP due diligence and freedom-to-operate analysis. In parallel the company proposes litigation/licensing support, technology scouting and IP/technology watch service.
Knowmade has a solid expertise in Compound Semiconductors, Power Electronics, Batteries, RF Technologies & Wireless Communications, Solid-State Lighting & Display, Photonics, Memories, MEMS & Solid-State Sensors/Actuators, Semiconductor Manufacturing, Packaging & Assembly, Medical Devices, Medical Imaging, Microfluidics, Biotechnology, Pharmaceutics, and Agri-Food