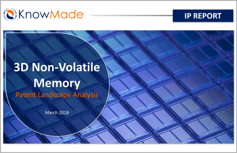 The 3D Non-Volatile Memory field is changing fast. How the Chinese players can find a place in a crowded space?

Publication March 2018
Report's Key Features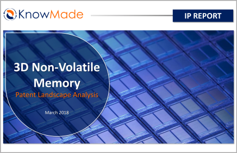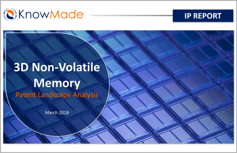 PDF > 150 slides
Excel file > 3,400 patents
IP trends, including time evolution of published patents and countries of patent filings.
Current legal status of patents.
Ranking of main patent assignees, their patented technologies, joint developments and IP partnerships.
Key patents and granted patents near expiration.
IP position of key players, and relative strength of their patent portfolios.
IP profiles for 6 major companies: SanDisk/Western Digital, Micron Technology, SK Hynix, Toshiba, Samsung, Macronix International.
Key Patents related to 3D NAND devices of key companies: trend of patent publications in China
IP Analysis of 3D non-volatile memory types and configurations.
Focus on 3D XPoint Memory.
Excel database with all patents analyzed in the report, including technology segmentation.
More KnowMade reports on memory patents (semiconductors). Patents can provide useful information to technology business owners and R&D managers. A patent landscape is a comprehensive report based on these publications.
---
A young market with big players and a fast-moving IP landscape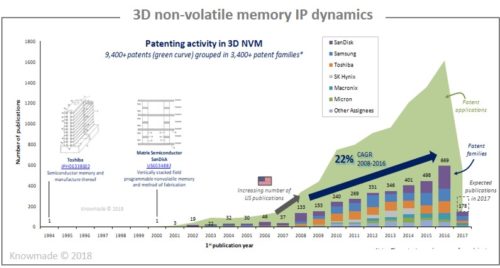 3D NAND Flash Memory devices appeared on the market in 2015 with 3D V-NAND – 32L of Samsung Electronics, followed in 2016 with 3D NAND V2 – 36L of SK Hynix, 3D NAND – 48L of Toshiba/SanDisk and 3D NAND – 32L of Micron/Intel.  In recent times, it happens a lot in the 3D non-volatile memory (3D NVM) field with the acquisition of SanDisk by Western Digital, The investments of Chinese government in memory, or the Intel announcement of the Intel/Micron separation for further development of 3D NAND. We witnessed these evolves in the IP landscape through the recent increase of 3D NVM-related patents filed by Chinese players (YMTC/YRST) and the numerous Samsung's patents published the latest months in China, USA and Korea, reflecting its willing to strengthen its 3D NVM IP portfolio. Also, we observed non-practicing entities (NPEs) like Conversant IP and WiLAN are entering the landscape. The presence of such companies is a tangible sign of the market explodes, heralding future IP battles when they will assert their patents to make money. In this report, KnowMade has thoroughly investigated the patents related to 3D non-volatile memories and draws a picture of the current patent landscape and its potential evolution. SanDisk/Western Digital, Samsung and Toshiba are leading the 3D NVM patent landscape. They hold together more than 65% of the patents, Western Digital and Toshiba signed a JV extension until 2029, and Samsung and Western Digital renewed a patent cross-license agreement until 2024. On the other hand, we witness the emergence of Chinese players in the IP landscape. Patent activity related to 3D non-volatile memory (3D NVM) emerged in the 1990s with Toshiba and SanDisk. They signed Joint Venture agreement on Flash Memory in 1999. In the end 2000s, the research and development of 3D architectures appeared with IP related to BiCS (Bit Cost Scalable, SanDisk and Toshiba), TCAT (Terabit Cell Array Transistor, Samsung Electronics) and FG (Floating Gate, SK Hynix). Few years later Micron Technology developed also FG architecture, and Macronix International developed in 2015 SGVC architecture (Single Gate Vertical Channel). Since 2008, the number of patents related to 3D NVM has continuously increased, and today the 3D NVM patent landscape represents over 3,400 patent families including more than 9,400 patents. The landscape is very competitive, with several big companies and the entrance of Chinese players these last years.
Identify key IP players
This report reveals the relative strengths of the top patent owners derived from their portfolio size, patent citation networks, countries of patent filings, and current legal status of patents. Through this in-depth analysis, each of 6 major market players are profiled in this report: SanDisk/Western Digital, Micron Technology, SK Hynix, Toshiba, Samsung, Macronix International. Each profile includes a detailed portfolio analysis with IP dynamics, IP strategies and key patents linked to 3D NAND products. The 3D non-volatile memory patent landscape involves big companies, and this closed domain is very difficult to enter for newcomers. Nevertheless Chinese companies are entering the landscape thanks to their financial means and will maybe change the 3D NVM development of further 3D memory layers. Note that equipment manufacturers like Applied Materials, Tokyo Electron and Lam Research have less than 20 patents related to a 3D non-volatile memory.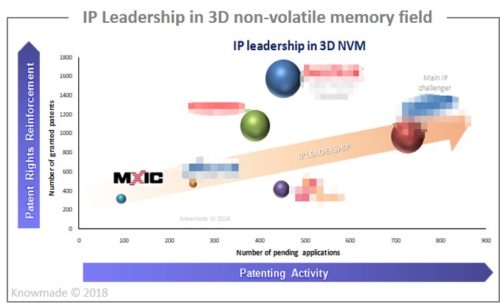 Identify key technologies
The 3,400 patent families selected for this study have been categorized by memory types and main architectures.  This report reveals the IP strategy and technical choices of patent assignees. We analyzed the current IP position of key players regarding the type of memory (Flash, MRAM, ReRAM, PCRAM) and the architecture (vertical, cross-point). Some companies concentrate on one memory type such as Micron Technology on PCRAM as we expect it with the research on 3D Xpoint Memory. Others like SanDisk are involved in several 3D Non-Volatile Memories.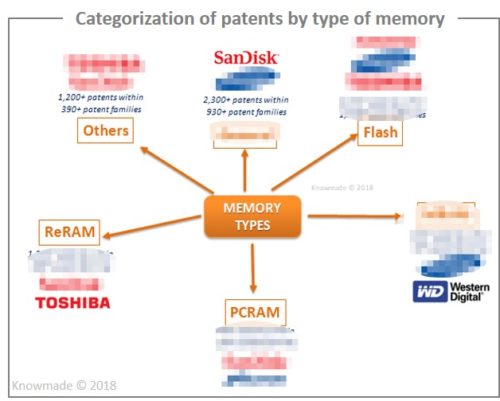 Focus on China
With all the funds invest by Chinese government in Memory, YMTC/YRST developed last year old generation 3D NAND 36L and try to catch up with major companies. However we can ask us, where do Chinese companies get their IP ? The China memory-related IP landscape is analyzed (2D, 3D, DRAM, SRAM, Flash, Emerging Memories) in order to understand the IP trends and technologies owned by Chinese players such as XMC, YRST, Tsinghua Unigroup, SMIC, etc. We also investigated what IP do the major companies involved in China have like Samsung, SK Hynix or Intel.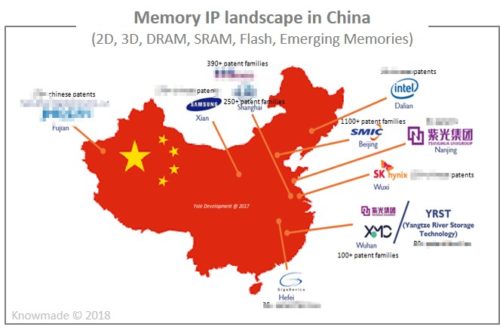 Useful patent database
This report also includes an Excel database containing the >9,400 patents analyzed in this study. This useful patent database allows multi-criteria searches and includes for each patent its publication numbers, the hyperlink to the original document, its priority dates, title, abstract, patent assignees, memory types/architectures, and current legal status.