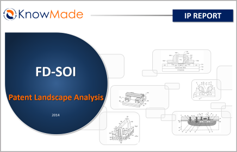 The major proponents of the FD-SOI technology have strong IP arms, but other unexpected players known as not supporting FD-SOI are also present

Publication Dec. 2014
Report's Key Features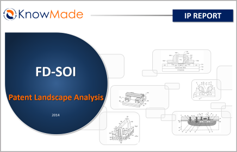 The report provides essential patent data for FD-SOI including:
PDF > 120 slides
Time evolution of patent publications and countries of patent filings.
Current legal status of patents.
Ranking of main patent applicants.
Joint developments and IP collaboration network of main patent applicants.
Segmentation by architecture (planar FD-SOI, SOI FinFET) and process level (transistor, device, circuit).
Key patents.
Granted patents near expiration.
Relative strength of main companies IP portfolio.
Matrix applicants / technology segments.
FD-SOI IP profiles of major companies with key patents, patented technologies, partnerships, and IP strength and strategy.
The report also provides an extensive Excel database with all patents analyzed in the study.
Read our definition of the patent landscape to ensure you are buying the right patent analysis. Click to find other patent reports on RF technologies.
---
Describing the IP situation of FD-SOI arena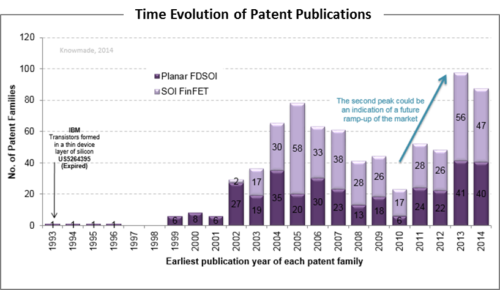 To date, FD-SOI remains a niche market and is still trying to gain widespread adoption. But recently we observed significant moves in the arena, suggesting there is a place for FD-SOI in the market. Earlier this year, Samsung and STMicroelectronics signed a strategic agreement to expand 28nm FD-SOI technology. GlobalFoundries, a foundry for 28nm FD-SOI, plans to field a 14nm FD-SOI process after 2015. At the recent IEEE S3S Conference, IBM described an SOI FinFET technology at 10nm, which is said to be a more simple process than Bulk FinFET. On the Bulk FinFET front, Intel is shipping its 14nm FinFET technology, but with six months late due to yield issues. Other foundries are currently struggling with similar issues for their Bulk FinFETs at 16nm/14nm, and the challenges are expected to increase at 10nm and beyond. Therefore, it might be time to take a look at IP situation of FD-SOI arena, especially for the next stage of planar and FinFET devices. This patent landscape focuses on fully depleted devices on SOI substrate for planar and FinFET architectures. More than 740 patent families related to this field have been published worldwide up to October 2014. In the early 1990s, IBM filed first patents related to fully depleted transistors on SOI substrate. Those fundamental patents were followed by an ever increasing number of patent applications between 2000 and 2005 as more companies competed in FDSOI. After a 2005-2010 decrease period of patenting activity suggesting less room for breakthrough innovation, the patent applications are increasing again since 2010. This second peak of patent publications could be an indication of a future ramp-up of the FDSOI market. Planar FDSOI patented technologies account for more than 340 patent families and they are monopolized by Americans (IBM, AMD, GlobalFoundries) and Europeans (STMicroelectronics, CEA-Leti). On the SOI FinFET (400+ patent families), we find IP players already involved in bulk FinFET technology (TSMC, Infineon, Samsung, Toshiba …). The patent applicants are mainly big players already involved in microelectronic arena and there is very little room left for new IP comers. There are very few SME or startups, and the few number of academics involved in FDSOI patenting activities suggests a mature technology.
Identify key players and collaborations
More than 30 companies/academics are involved in FDSOI technology IP. IBM, a major proponent of the FDSOI, is definitively leading this patent landscape. STMicroelectronics, who played a pioneering role with its partners CEA-Leti and Soitec, has a very young, but promising, patent portfolio. It is interesting to find FDSOI patents held by TSMC and Intel, since they are rather known as proponents of the bulk-Si technology. This may suggest they have certainly carefully looked at FDSOI as a technology option, even if so far these companies do not support FDSOI. What could be their positions whether they want to enter the FDSOI market? The report provides a ranking and analysis of the relative strength of the top FD-SOI technology patent holders derived from their portfolio size, patent citations networks, countries of patents filings, current legal status of patents and collaborations. Through thorough analysis we have identified five major players, each of which is profiled in this report. Each profile includes a detailed portfolio summary including market news, collaborations, product, roadmap, patenting activity, patented technologies with detailed recent innovations, key patents, and partnerships.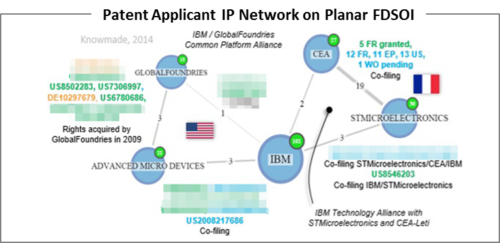 Patented technology and IP strategy
The 740+ patent families selected for this study have been manually segmented by architecture type (Planar FDSOI, SOI FinFET), and the dataset is organized into various technology segments that are analyzed (strained FD-SOI, transistor, device, integrated circuit). Methods for manufacturing transistor on SOI substrate represent the biggest part of patents, while recent patents seem to focus on IC level. We observe a high number of license agreements and collaborations in FDSOI technology (IBM/ST, Samsung/ST, ST/CEA/Soitec, GF/ST …), and for the moment there is no patent litigation, since the proponents of the FDSOI technology still attempt to gain its widespread adoption at 28-14nm nodes. But this could change when the FD-SOI technology will need to use FinFET-based approches (SOI FinFET) at the 10nm node and beyond, since TSMC and Intel could enter in IP battle.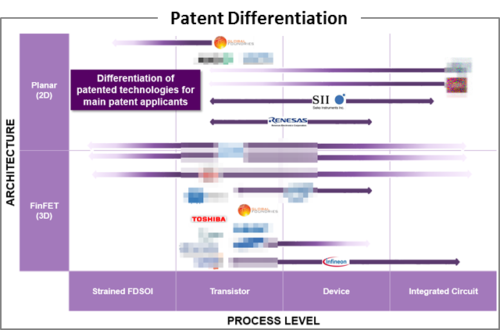 Identify key patents
More than 50 key patents have been identified based on several indicators, including family size, legal status, citations analysis and impact on FD-SOI technology. Key Patents are mainly held by IBM whether on Planar FDSOI or SOI FinFET. In the future, IBM is expected to maintain its leadership position in the FDSOI patent landscape, while STMicroelectronics and CEA-Leti could become major forces in Planar FDSOI IP. TSMC and Intel also hold some key patents that they could assert at the right time. Our report also includes an Excel database containing all of the analyzed patents. This database allows for multicriteria searches and includes patent publication number, hyperlinks to the original documents, priority date, title, abstract, patent assignees, technological segments and legal status for each member of the patent family.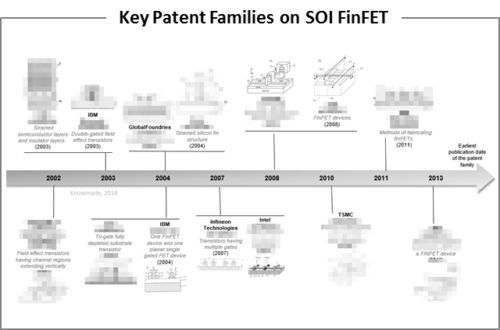 Companies cited in the report
Advanced Micro Devices, CEA-Leti, GlobalFoundries, IBM, IMEC, Infineon Technologies, Institute of Microelectronics (CAS), Intel, KAIST, Lapis Semiconductor, Micron Technology, Oki Electric Industry, Renesas Electronics, Samsung Electronics, Seiko Instruments, Sharp, SK Hynix, SMIC, Soitec, STMicroelectronics, Toshiba, TSMC, United Microelectronics Corporation