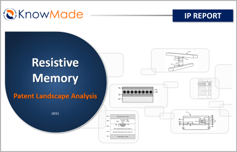 With Resistive Memory adoption to replace NAND, how will evolve IP forces involved in the next years ?

Publication July 2015
Report's Key Features
The report provides essential patent data for ReRAM and Memristor including: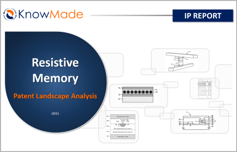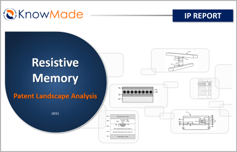 PDF > 120 slides
Time evolution of patent publications and countries of patent filings.
Ranking of main patent applicants.
Joint developments and IP collaboration network of main patent applicants.
Key patents.
Granted patents near expiration.
Relative strength of main companies IP portfolio.
Matrix applicants/patented technology for more than 15companies.
The "Resistive Memory IP" profiles of 15+ major companies is presented, with key patents, recent patents, technological issues, partnerships and last market news.
The report also provides an extensive Excel database with all patents analyzed in the study.
KnowMade's related memory technologies reports include the same patent landscape.
---
Describing the IP situation

The Resistive Memory technologies involve more than 100 different applicants. The main IP holders in the domain are Samsung, Toshiba and SK Hynix. With growing market, new players are emerging and reshaping the IP landscape, especially Hewlett Packard is coming into playground strongly with new resistive memory type (memristor), Crossbar that unveiled architecture breakthrough innovation or Adesto Technologies that acquired Qimonda CBRAM Memory IP. In recent years, emerging non volatile memories have been enthusiastically studied in order to replace Flash Memory that faces among others, scalability challenges. Among these candidates, Resistive Memory has been extensively studied as one of the most promising candidates for the next generation of memory technology due to excellent memory performances. Indeed, Resistive Memory, that exhibits resistive switching between a high resistance state and a low resistance state, has overwhelming advantages in easy fabrication, simple structure, excellent scalability, fast switching, high integration density, and good compatibility with the current complementary metal oxide semiconductor (CMOS) technology. The application potential of the new emerging resistive memories – as metal oxide resistive switching memory (OxRRAM), conductive-bridge memory (CBRAM) or conductive metal oxide memory (CMOx) – covers the standalone memory technologies (as NAND and DRAM), but offers also potential for exciting new applications and markets, as new functionality coupled with logic circuits to enable block power-down, or use as synapses in neuromorphic circuits.  Some devices are already on the market: 1Mb 130 nm CBRAM device of Adesto Technologies since 2011 and ReRAM embedded MCU of Panasonic since 2013. Besides, the 16Gb CBRAM of Micron and Sony that will be commercially available this year will allow the development of a mainstream market.
This patent landscape focuses on current Resistive Switching Random Access Memories (phase change memories not included). More than 2600 patent families related to this field have been published worldwide up to March 2015. In the end 1990s, first patents related to Conductive Bridging Memories were published. Then in beginning 2000s the first patent on Oxide Resistive Memories was published more than 30 years after the concept discovery. Few years later, Unity Semiconductor published first patent on new resistive switching memory: Conductive Metal Oxide (CMOx). In end 2000s, Hewlett Packard published for the first time patent on the application of the Memristor concept to ReRAM. The number of patent applications is increasing since 2003 suggesting a future ramp-up of the market.
Identify key players
More than 15 companies are deeply involved in Resistive Memory IP. Key players include Asian and American giant semiconductor companies (SanDisk, Panasonic, Sharp…) but also start ups (Crossbar, Adesto Technologies, Unity Semiconductor,…). The report provides a ranking and analysis of the relative strength of the key patent holders derived from their portfolio size, patent citations networks, countries of patents filings, current legal status of patents. Through this thorough analysis, we have identified 15+ key players, each of which is profiled in this report. Each profile includes a detailed portfolio analysis with current patent activities and key patents but also market news, collaborations and technological choices.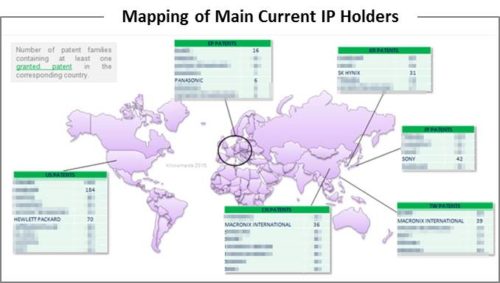 Patented technology and IP strategy
The 2600+ patent families selected for this study have been manually segmented by memory type (CBRAM, OxRRAM, CMOx, Memristor), and the dataset is organized into various claimed invention (material, process, cell structure, programming). Main assignees seem to fill patents either on one specific memory type or on general Resistive Memory. We observe a high number of license agreements and collaborations in Resistive Memory technology (Sony/ Micron Technology, Panasonic/IMEC, SanDisk/Toshiba/ Intermolecular, Adesto Technologies/Altis Semiconductor, …), and for the moment there is no patent litigation since the market is starting. But this could change with the adoption of Resistive Memory to replace Flash Memory, since new challengers are entering the Resistive Memory technology. The leadership of patent applicants should evolve in the future in this field.
Identify key patents
More than 50 key patents have been identified based on several indicators, including family size, legal status, citations analysis and impact on Resistive Memory technology. Key Patents are mainly held by pioneers (Unity Semiconductor, Hewlett Packard,…) but also memory giants. In the future, they are expected to maintain their leadership position in the Resistive Memory patent landscape, while new challengers and start-ups could become major forces in Resistive Memory IP. The report also includes an Excel database containing all of the analyzed patents. This database allows for multi-criteria searches and includes patent publication number, hyperlinks to the original documents, priority date, title, abstract, patent assignees, technological segments and legal status for each member of the patent family.
Companies cited in the report (non-exhaustive)
4DS, Adesto Technologies, Altis Semiconductor, Atmel, Axon Technologies, Crossbar, Elpida Memory, Freescale Semiconductor, Fujitsu, Hewlett Packard, IBM, Infineon Technologies, Intel, Intermolecular, Macronix International, Micron Technology, NEC, Panasonic, Qimonda, Rambus, Renesas Electronics, Samsung, SanDisk, Seagate Technology, Semiconductor Manufacturing International Corporation (SMIC), Sharp, SK Hynix, Sony, STMicroelectronics, Symetrix, Taiwan Semiconductor Manufacturing (TSMC), Toshiba, Unity Semiconductor, Winbond Electronics