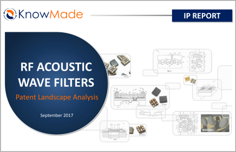 SAW and BAW filters are key components of today's mobile communication modules thanks to their small size, low cost and high performance. But who has the best IP position for the upcoming 5G protocol?

Publication October 2017
Report's Key Features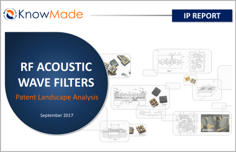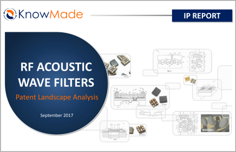 PDF >180 slides
Excel file >6,550 patent families
IP trends, including time evolution of published patents and countries of patent filings.
Patent segmentation by technology (SAW, BAW-FBAR, BAW-SMR) and device (duplexers, multiplexers, diplexers).
Current legal status of the patents.
Ranking of main patent assignees by technological segments.
Key patents and granted patents near expiration by technological segments.
Focus on packaging and thermal drift compensation.
IP position of key players, and relative strength of their patent portfolios.
Patents linked to products of major market players.
IP profile of key players.
Excel database with all patents analyzed in the report, including technology segmentation.
Discover our range of RF technology patent reports, including different types of patent analyses, including our most popular product: our patent landscape report.
---
Acoustic wave filter IP dynamics are changing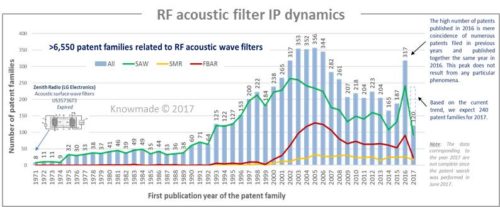 Since the development of analog radio frequency (RF) communication in the early 1990's, front end modules have become key components. Among all front end module devices, filtering will be the strongest growing market over the next five years. A compound annual growth rate of 8% is set to make the filter market worth $16 billion in 2022 according to Yole Développement's March 2017 report, 'RF Front End Modules and Components for Cellphones'. Acoustic wave technology has become the best way to deliver high performance, small and low-cost filters in analog RF communication. And today, as 5G communication protocols take shape, acoustic wave filter players have consolidated their position. They are now developing filters that will address the requirements of the upcoming 5G mass market.
In the 1990s, SAW filter patent publications grew rapidly, heralding the development of the RF acoustic wave filter market in the 2000s. Since 2010, the market has consolidated, while we have witnessed of the flattening of the patent activity growth and the strengthen of the IP position of several companies. It is now essential to understand the RF acoustic filter patent landscape, the key patented technologies and players' IP positions. Such knowledge can help anticipate the upcoming revolution, detect business opportunities, mitigate risks and make strategic decisions to strengthen one's market position.
In this report, Knowmade has thoroughly investigated the patent landscape for RF acoustic wave filters dedicated to mobile applications, including SAW, TC-SAW, BAW-FBAR, BAW-SMR, duplexers, multiplexers and diplexers. We have evaluated the IP position of key players through detailed analysis of their patent portfolios, including the legal status of the patents, their geographic coverage, their claimed inventions and their prior art contribution. We also study their IP strategy and their IP blocking potential.
More than 6,550 RF acoustic filter inventions have been published worldwide up to July 2017 by more than 630 patent applicants. The related patenting activity started in the 1970s in Japan, with the emergence of surface acoustic filters for Intermediate Frequency (IF) TV applications. They have rapidly became a worldwide topic for which the major IP players come from Japan, like Japan Radio and NEC, and the U.S., like Motorola. In the 2000s, the number of BAW-related patent publications increased strongly with the development of applications for smartphones and 3G. Today, IP activity has settled down and Japanese players like Murata or Taiyo Yuden lead the SAW patent landscape, while American players like Qorvo, Qualcomm and Broadcom lead the BAW patent landscape.
Know the key players' IP positions
More than 630 patent applicants are involved in the RF acoustic filter-related patent landscape. Knowmade has analyzed the IP position of key players in detail. This report provides an understanding of their patented technologies and IP strategy. We also reveal the relative strengths of the top patent owners, derived from their patent portfolio sizes, patent citations, countries of patent filings, enforceable patents and pending patent applications. Thanks to market data and quantitative/qualitative IP analyses, we make projections for both the SAW and BAW related patent landscapes and analyze the main changes that could occur in the next five years.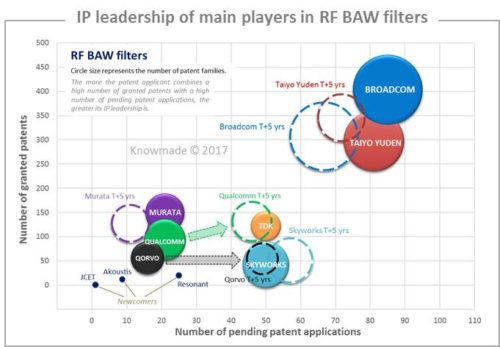 Understand key players' patented technologies and IP strategies
The >6,550 patent families selected for the present study have been categorized by technology into SAW, FBAR and SMR, and type of device, into duplexers, multiplexers and diplexers. They have also been categorized by type of packaging, into flip-chip, through silicon via (TSV)-based 3D integration and wafer level packaging, and technical challenges such as thermal drift compensation. This report reveals the IP strategies and the technical choices of the main patent assignees. We depict the IP profile of the key players: Murata, Broadcom, Qualcomm/NXP, Skyworks, Taiyo Yuden, Qorvo, TDK, Akoustis, Resonant, Wisol, JCET and Intellectual Ventures. Each profile includes IP dynamics, current legal status of the patents, countries of filing, key patents and the most recent patented technologies. Moreover, a short patent-to-product mapping is presented and exhibits the patents linked to the commercial products of the major market players.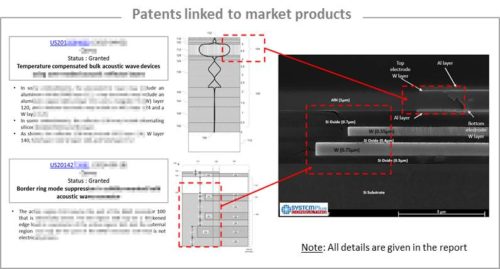 Useful patent database
The report also includes an Excel database containing the >6,550 patent families analyzed in the study. This useful patent database allows multi-criteria searches and includes patent publication number, hyperlinks to the original documents, priority date, title, abstract, patent assignees, technological segments and current legal status for each member of the patent families.
Companies mentioned in the report (non-exhaustive)
Murata Manufacturing, Taiyo Yuden, Skyworks, Kyocera, Broadcom, Hitachi, Qualcomm/NXP, TDK, Toyo Communication Equipment, Samsung, LG, Seiko Epson, Qorvo, Nihon Dempa Kogyo, NEC, Epson, Sanyo, Siemens, Mitsubishi, Japan Radio, NGK, CTS, Intellectual Ventures, Philips, Thomson, UBE Industries, Intel, Wisol, Alps Electric, Zenith Radio, NGK Spark Plug, Sony, STMicroelectronics, CEA, Clarion, Institute of Acoustics – Chinese Academy of Sciences, Texas Instruments, Beijing Zhongxun Sifang Science Technology, Chinese Electronics Technology Research Institute, Motorola, Tianjin University, Jiangsu Changjiang Electronics Technology, MEMS Solution, NTT, Northrop Grumman, Canon, Ericsson, Clarisay, Resonant, etc.