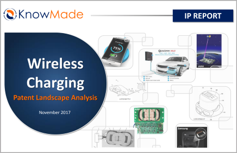 Wireless power charging market is strongly expanding for consumer and transport applications. But what is the IP strategy of the companies?

Publication November 2017
Report's Key Features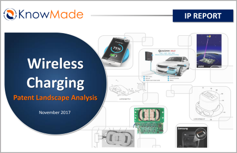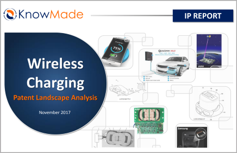 PDF with >220 slides
IP trends, including time evolution of published patents and countries of patent filings
Current legal status of patents
Ranking of main patent applicants by technologies
Joint developments and IP collaboration networks of main patent applicants
Key patents and granted patents near expiration
Relative strength of the main companies' IP portfolios by technologies
Matrix showing patent applicants and their patented technologies and applications
Segmentation of patents by technologies (radiatives, nonradiatives) and applications (consumer, transport, healthcare)
IP profile of key players, including their key granted patents and recent patent applications
IP position versus market position for each key player by technologies
Excel database with patents analyzed in the report for the top 20 key players, including technology segmentation
All KnowMade patent landscapes about power electronics. Follow this link to find out exactly what a patent landscape report contains.
---
Wireless power charging IP activity is booming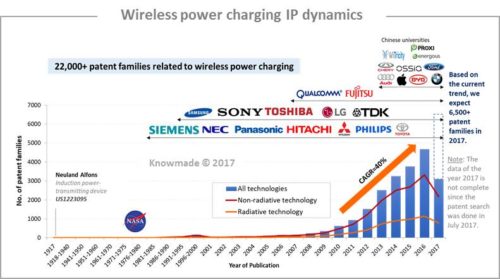 From cell phones to electric and plug-in hybrid vehicles, the power to charge batteries now lies in the air. Recently Apple decided to implement this technology with its iPhone 8 and X, highlighting that wireless charging can now reach the high volume consumer market with good performances that fulfil the regulations. Several technologies have been developed within the last two centuries: inductive coupling, magnetic resonant coupling, capacitive coupling, power transfer by ultrasound, RF/microwaves and laser. Currently, inductive coupling is mainly used in consumer applications (Samsung GS7 and GS8, iPhone 8) while magnetic resonant coupling is the preferred technology for charging electric vehicles. According to Transparency Market Research (Wireless Power Transmission Market – Global industry analysis, size, share, growth, trends and forecast 2017-2025), the global market for wireless power transmission was valued at $3.6 billion in 2016 and is estimated to reach $17.15 billion by 2025, driven by the increasing demand for electrical vehicle and consumer applications. The growing number of companies involved in wireless charging technologies, the multiple license and partnership agreements, the presence of start-ups, and the set-up of standards indicates the market is structuring. It is now essential to understand the wireless power charging patent landscape, the key patented technologies and players' IP positions. Such knowledge can help anticipate the upcoming revolution, detect business opportunities, mitigate risks and enable strategic decisions to be made to strengthen one's market position. In this report, Knowmade has thoroughly investigated the patent landscape for wireless power charging, including both non-radiative and radiative technologies, and the consumer, transport and healthcare applications.
More than 21,990 wireless power charging inventions have been published worldwide up to July 2017 by more than 5,800 patent applicants. Patenting activity related to wireless power transmission emerged in the 1980s with Japanese and Korean companies like NEC, Panasonic, Hitachi, Mitsubishi, Samsung, LG and TDK, and later the Chinese universities in the 2000s. Since then, the number of patent publications has continuously increased and since 2010 we have witnessed a strong increase in patenting activity induced by the simultaneous important development of non-radiative and radiative technologies for consumer electronic devices and transport applications. Nowadays, Chinese universities, Panasonic/Sanyo, Qualcomm/NXP, Toyota, Samsung, LG and Intel are the most active patent applicants. Access Business, Avago/Broadcom, Auckland Uniservices, Philips, Qualcomm/NXP, Mojo Mobility, Sony and WiTricity have the strongest IP portfolios.
Compare key players' IP and market positions
More than 5,800 patent applicants are present in the wireless power charging patent landscape. Knowmade has analyzed the IP position of key players in detail for both non-radiative and radiative technologies. This report provides an understanding of their patented technologies and IP strategy. We also reveal the relative strength of the top patent owners, derived from their patent portfolio size, prior art contribution, countries of patent filings, enforceable patents and pending patent applications.
A special focus has been placed on the main patent litigation, collaborations and licensing agreements related to wireless power charging patents. We highlight the discrepancies between the market position and the IP position of key players regarding the technologies (non-radiative or radiative) and their applications (consumer, transport, healthcare).

Understand key players' patented technologies and IP strategy
The 22,000 patent families selected for the present study have been categorized by technology and application. This report reveals the IP strategy and the technical choices of the main patent assignees. We detail the IP profile of 19 key players: Qualcomm/NXP, Intel, Broadcom/Avago, Sony, Philips, Samsung, Access Business, Panasonic/Sanyo, LG, Apple, Toyota, Auckland UniServices, PowerbyProxi, WiTricity, Powermat, Mojo Mobility, Energous, Ossia, and uBeam. Each profile includes the patent portfolio size, current legal status of the patents, countries of filing, IP strength assessment, technology choices, key patents and the most recent patented technologies. GaN-FET can advantageously perform at higher frequency than existing MOSFET and it allows a higher efficiency. The present report provides a special focus on wireless charging related patents mentioning the GaN technology (EPC, Intel, Navitas Semiconductor, Rohm, Qualcomm, Samsung, etc.).
Useful patent database
The report also includes an Excel database containing the patent families analyzed in the study for the top 20 key IP players. This useful patent database allows multi-criteria searches and includes patent publication number, hyperlinks to the original documents, priority date, title, abstract, patent assignees, technological segments and current legal status for each member of the patent families.
Companies mentioned in the report (non-exhaustive)
Access Business, Amosense, Apple, Auckland Uniservice, Audi, Avago/Broadcom, BMW, Bombardier, Bosch, BYD, Canon, Chery, Daimler, Energous, Ford, Fujitsu, General electric, Hitachi, Honda, Hyundai, Integrated Device Technology, Intel, Kia, Kthepower, LG, Mitsubishi, Murata Manufacturing, NASA, NEC, Nissan, Nitto Denko, Nokia, Ossia, Panasonic/Sanyo, Philips, Postech, PowerbyProxi, Powermat, Röhm, Qualcomm/NXP, Samsung, Seiko-Epson, SEL, SEW, Siemens, Sony, TDK, Texas Instruments, Toshiba, Toyota, uBeam, WiTricity and more.