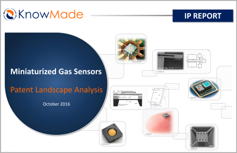 Consumer applications open up new perspectives for gas sensors; Do the key market players have the best IP positions?
Publication October 2016
Report's Key Features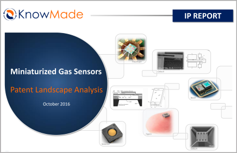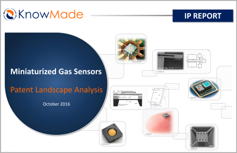 PDF > 220 slides
Excel file (2,000+ patents)
IP trends including time evolutions and countries of patent filings
Current legal status of patents
Ranking of main patent applicants
Joint developments and IP collaboration network of main patent applicants
Key patents and granted patents near expiration
Relative strength of main companies' IP portfolios
Matrix showing patent applicants and their patented technologies
Segmentation of patents by gas sensor technology: Electrical detector (FET, CMOS, MOS/MIS), chemical sensor, optical detector, acoustic detector, gas chromatography, electro-chemical gas sensor, thermal gas sensor, gas sensor with CNTs/Graphene, electro-mechanical gas sensors
IP position vs. market positions for each key players
MEMS gas sensor IP profiles of 19 key companies, with key patents, technological issues, partnerships, IPstrength, IP strategy and latest market news
Excel database with all patents analyzed in the report, including technology segmentation
Find other patent landscapes for MEMS technologies and ensure you know the ins and outs of a patent landscape to reap all its benefits.
---
Micro gas sensor IP dynamics come along with the market ramp-up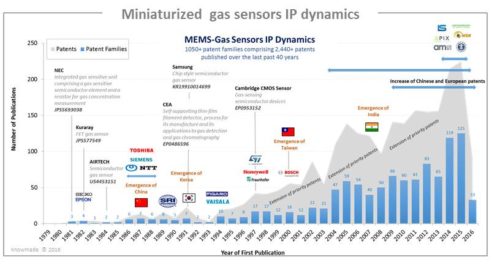 Today, mobile applications aggregate more and more sensors (pressure, inertial …), and gas sensors could be the next sensors to be integrated in smart phones and/or wearables devices. Consumer applications are driving new gas sensors development to reduce cost, power consumption and size, especially with MEMS technologies. Such gas sensors are thus referred as "MEMS gas sensors". These technical and business requirements have opened the door to innovation and added a new dimension to the global competition between gas sensor suppliers. The recent mergers and acquisitions (AMS/Applied Sensors/NXP/CCMOS, TDK/Micronas) reflect this thriving sector in structuration. What is surprising with the gas sensor market and related patents, is the discrepancies between the market leaders (Honeywell, MSA, NGK, Figaro) and the leaders for patents related to miniaturized gas sensors (Bosch, Siemens, Micronas, CCMOS). This is highlighting the fact that the gas sensor market is about to change: the new patents and related devices are targeting new applications, which may disrupt the market. Nowadays, the number of enforceable patents is increasing worldwide, and several companies already stand out by their strong IP position. All of these signs suggest the market start. According to the latest analysis from Yole Développement (Gas Sensor Technology & Market, February 2016), the market size of gas sensors for consumer applications should grow from $12M in 2015 to more than $95M in 2021 (upside of $60m if massive adoption of these technologies). With a CAGR 2014 – 2020 of 33%, this segment is poised to experienced the highest grow rate of the gas sensor market. In such emerging market, a strong intellectual property (IP) position on miniaturized gas sensors is thus essential for companies to enter in this promising business. Now it is a critical time for understanding the global patent landscape of miniaturized gas sensors through in-depth patent analyses of key technologies and key players, in order to anticipate changes, harvest business opportunities, mitigate risks and make strategic decisions to strengthen one's market position and maximize return on one's IP portfolio. In this report, we have investigated the patent landscape of miniaturized gas sensors that could be used in consumer applications, i.e. patents claiming gas sensing technologies with very innovative approaches, based on existing MEMS/Semiconductor/Optical integration platforms and manufactured by micro-fabricating processes. More than 1,050 patented inventions have been published worldwide up to August 2016 by more than 440 patent applicants. First patents on MEMS gas sensors was filed by Japanese companies in the early 1980's (NEC), but patent activity really emerged between 1985 and 1994 with the apparition of European and American companies (Siemens, Fraunhofer, CEA, SRI, SPX …). Multiple start-ups have been created on the basis of CEA R&D results. A first wave of patent publications occurred between 1994 and 2003 induced by the emergence of IDMs (ST Microelectronics, Micronas, Honeywell, NGK, Bosch), American R&D labs (Caltech, University of Florida) and pure play gas sensor companies (CCMOS Sensors, Applied Sensor). Since then, patent publications have increased thanks to a high patent activity of Chinese universities (mainly in China) and European players (worldwide). The last 3 years newcomers started to file patents on MEMS gas sensors (AMS, Sensirion, APIX, NXP …). Currently, more than 760 patents are granted, mainly in China, Europe and USA, and more than 510 patent applications are pending, mainly in Europe, China and USA. We believe the significant ratio of patents in force and the high number of patent applications still in the pipeline worldwide is an indication of the technology maturity heralding a future ramp-up of the market of miniaturized gas sensors that could be used in consumer applications.
Know the IP position of key players
More than 440 patent applicants are involved in MEMS gas sensors patent landscape. Bosch is the main patent holder around the world and is still very active in this field. But according to our analysis, Caltech, General Electric (Amphenol), Honeywell and Siemens have the strongest patent portfolios with a real IP blocking potential. The report provides a ranking and analysis of the relative strength of the top patent holders derived from their portfolio size, patent citation networks, countries of patent filings and current legal status of patents. We reveal the IP strength of the key IP players involved in gas sensor technologies that could be used in consumer applications and we depict their competitive IP position. In our analysis, we have identified 18 key players : AMS, APIX Analytics, Applied Sensor, Bosch, Caltech, Cambridge CMOS Sensors, CEA, ETRI, Figaro, Fraunhofer, General Electric, Honeywell, Micronas, NGK Spark Plugs, Sensirion, Siemens, SPEC Sensors, VTT. For each one, we provide a miniaturized gas sensors IP profile including dynamics and main countries of filing of their patent applications, key features of their patent portfolio, IP strength, collaboration network and key patents.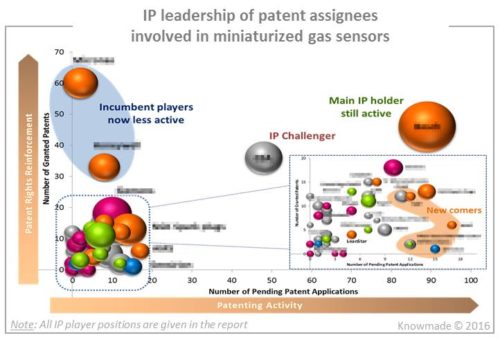 Patented technology and IP strategy
The 1,050+ patented inventions selected for this study have been categorized by technology segments: electrical detection (FET, CMOS, MOS/MIS, chemical sensors, sensors with CNTs/graphene), optical detection, acoustic detection, thermal gas sensors, electro-mechanical gas sensors, electro-chemical gas sensors and gas chromatography. For each segment, the report includes the description of the technology, its advantages and its drawbacks, the time evolution of patent applications, the main patent assignees and their filing countries, the key patents, the patents near expiration date and a comparison between main IP players and main market players. We describe the recent patented technologies on miniaturized gas sensors and we reveal the IP strategy and the technical choices of the main patent assignees.
Useful patent database (2,400+ patents)
Our report also includes an Excel database containing the 2,400+ patents analyzed in the study. This useful patent database allows multi-criteria searches and includes patent publication number, hyperlinks to the original documents, priority date, title, abstract, patent assignees, technological segments and legal status for each member of the patent families.
Companies mentioned in the report (non-exhaustive)
Amphenol, AMS, APIX Analytics, Applied Sensors, Bosch, Caltech, Cambridge CMOS Sensors, CEA, Elster, ETRI, Figaro, Fraunhofer, General Electric, Hitachi, Honeywell, ITRI, KWJ Engineering, Micronas, New Cosmos Electric, NTK/NGK, NXP, Oriental Systems Technology, Sensirion, Siemens, SLS Technology, Spectral Engines, SPEC Sensors, ST Microelectronics, Suzhou LeanStar Electronic Technology, VTT …