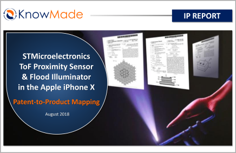 What are the main patented features of Apple iPhone X proximity sensor and flood illuminator?

Publication August 2018
Report's Key Features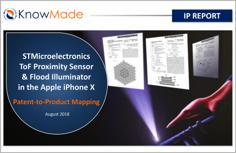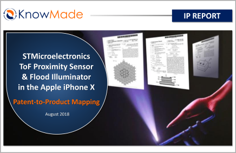 PDF > 110 slides
Link between key product features and patents owned by STMicroelectronics, Lumentum, and Philips
Essential patent portfolio analysis for STMicroelectronics, Lumentum, and Philips, related to VCSEL and ToF sensors. Includes:

Time evolution of patent publications, and countries of patent filings
Current legal status of patents
Citation network and competitive IP networks

Deep insight into technology data, including teardown analysis of:

STMicroelectronics ToF sensor
Philips' VCSEL source
Lumentum's VCSEL array
Patent landscapes on MEMS technologies.
All our types of patent analyses.
---
Apple iPhone X: A trove of new tech sensors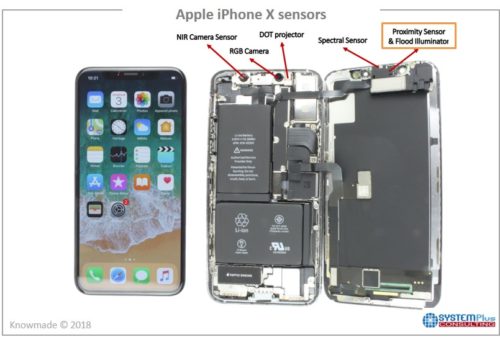 Released in November 2017, the Apple iPhone X marks the 10th anniversary of the iPhone product line. With this new generation come several new technologies that make the iPhone X unique. Among the main new features we find are the screen design, OLED display, advanced true-depth camera, and optical array sensors (which enable facial ID). In addition to these new features, the iPhone X has an impressive number of sensors, especially those that are integrated into a small space at the top of the iPhone X screen. The sensor panel includes an infrared camera, flood illuminator, proximity sensor, and an ambient light sensor, along with a front camera, dot projector, speaker, and microphone. To achieve such a complex solution, Apple successfully built and managed a strong network comprised of many players.
The iPhone X's time of flight (ToF) proximity sensor and flood illuminator are good examples of this network's aptitude. Indeed, manufacturing these two devices required the work of three companies: STMicroelectronics, Philips, and Lumentum. In such a complex network, understanding each player's patented features, IP position, and strategy was critical.
With a CAGR of 82% from 2016 – 2023 (according to Yole Développement), the consumer market will drive the development of 3D imaging and sensing technologies. Today, the iPhone X's sensors are part of the first generation of imaging and sensing devices to be integrated in a cellphone, but many will follow. In this report, Knowmade and its partner, System Plus Consulting, join forces and provide key information for understanding the roles, dynamics, and IP strategies of the players involved in the manufacturing of the iPhone X's proximity sensor and flood illuminator.
Included in the same package, both components have been torn down and analyzed by System Plus Consulting, revealing their main characteristics. Based on this teardown analysis, Knowmade has identified the closest patents to these technologies and described the main proprietary features.
This report's methodology
To reveal the main features of the Apple iPhone X's proximity sensor and flood illuminator, Knowmade has analyzed the patent portfolios of STMicroelectronics, Lumentum, and Philips. For each player, Knowmade has performed:
– A selection of relevant and related patents
– A global IP analysis in order to understand each player's IP strategy and position
– A deep analysis of patents related to the Apple iPhone X product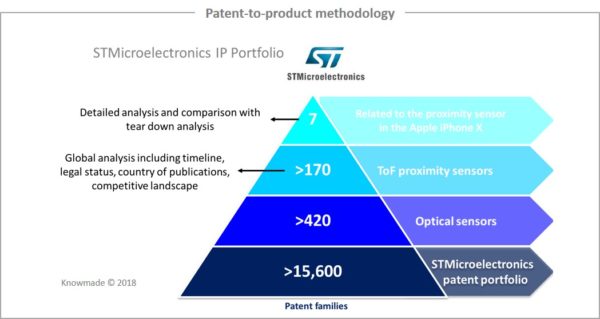 This report's main assets
Identify the IP players involved in manufacturing the Apple iPhone X's proximity sensor and flood illuminator
Understand these players' strategy and position in the IP landscape
From STMicroelectronics' patent portfolio to Lumentum's VCSEL-focused portfolio, more than 500 inventions related to ToF sensors and VCSEL have been identified. A global IP analysis allows us to understand the position of each player by positioning their patents within their IP competitive landscape and highlighting their actual IP dynamic regarding patent publication and geographic coverage.
Analyzing IP players' product-related patents
This report provides an understanding of the key features asserted by the patents of STMicroelectronics, Lumentum, and Philips. Each patent related to the Apple iPhone X's sensor is detailed. Main characteristics and their impact on the manufacturing process, device performance, cost, etc. are highlighted too.