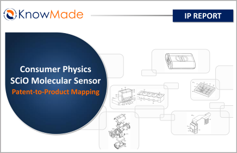 How has Consumer Physics patented its SCiO Molecular Sensor?
Publication March 2017
Report's Key Features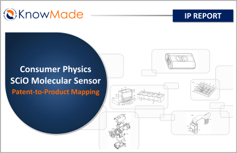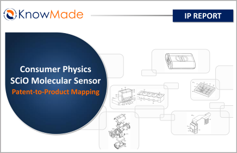 PDF > 80 slides
Essential IP analysis of Consumer Physics' patent portfolio including:

Time evolution of patent publications and countries of patent filings
Current legal status of patents
Citation network and competitive IP networks
Inventor identification

Deep insight on technology data, including teardown analysis, of the SCiO spectrometer's components
Key patents related to the SCiO spectrometer's features and held by Consumer Physics
Our healthcare patent landscapes help companies find useful scientific information, if necessary, focused on a particular technology. We also provide patent landscape reports to gain a broader technology overview.
---
Consumer physics, pioneer of the pocket-sized molecular sensor

Consumer Physics Inc. develops and distributes molecular sensors, marketing its product under the SCiO brand name. According to Consumer Physics, the SCiO spectrometer is the world's first pocket size molecular sensor. The company had over 13,000 backers on Kickstarter and ended up raising over $2.7 million. Consumers can use SCiO to scan objects including fruit, vegetables, dairy food, meat, fish and medications. They can even scan their own bodies to measure total body fat. The SCiO app also includes a DIY applet that allows anyone to scan materials of their choosing and analyze the difference between their molecular identities. Consumer Physics has won numerous awards including an 'Enabled by Optics' award from OSA, The Optical Society, in 2016, the World Economic Forum Technology Pioneers Award 2015, the United Nations Netexplo Award 2015 and was a CES Innovation Honoree in 2016. SCiO has regularly appeared in top 'products to watch' lists on Forbes, CNN, and Fortune, and has been covered numerous times by the media on television, in print and online. But what technologies are behind Consumer Physics' success and what are the main features claimed by its patents?
A clear link between products and patents
Combining the data obtained by System Plus Consulting's teardown of the SCiO molecular sensor with Knowmade's IP analysis, this report highlights IP related to this pocket-sized spectrometer. Moreover, it analyzes Consumer Physics' patent portfolio in order to understand the company's IP strategy and to identify main IP competitors.
Patent-to-product mapping
System Plus Consulting tore down the SCiO molecular sensor. Knowmade then compared the features this revealed to Consumer Physics' IP portfolio. The selected features are mainly related to the spectrometer package, spectrometer module, illumination module and temperature sensor module. The report identifies key patents held by Consumer Physics related to these technology features. For each product feature, we have established links between patented technologies, including legal status, and the product.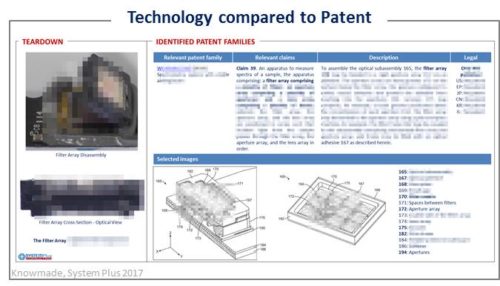 Patent portfolio analysis and IP competitive environment
We have analyzed Consumer Physics' patent portfolio, including publication trends, country of publication and main inventors, and identified IP competitors. Consumer Physics' portfolio is recent and cited only by four assignees. Consumer Physics itself cites 109 patent families, representing around 90 assignees.   Combining   the   citation network with analysis of the content of citing/cited patents, we have ranked Consumer Physics' IP competitors of to establish a general view of the IP competitive environment.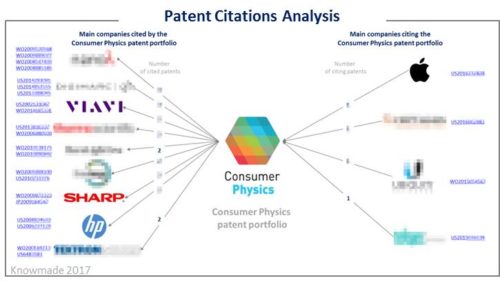 Deep technology analysis
System Plus Consulting has analyzed the technology using optical microscopy, scanning electron microscopy and energy-dispersive X-ray spectroscopy. Knowmade has combined this with deep IP study, helping to understand the architecture and operation of the SCiO molecular sensor. For each key feature, we have selected the main claims and relevant parts of the description for highlighting the patented technology used in the handheld spectrometer.