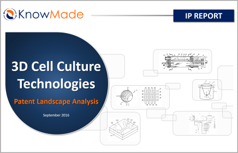 IP landscape for 3D cell culture technologies offers an important space to big entities as well as for small companies

Publication September 2016
Report's Key Features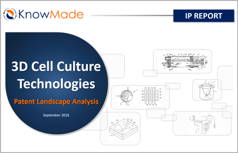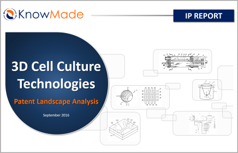 PDF > 85 slides
The report provides essential patent data for 3D cell culture technologies including:
Time evolution of patent publications and countries of patent filings
Current legal status of patents
Ranking of main patent applicants
Joint developments and IP collaboration network of main patent applicants
Key patents
Granted patents near expiration.
Relative strength of main companies IP portfolio
3D cell culture IP profiles of 10+ major companies with key patents, partnerships, and IP strength and strategy
The report also provides an extensive Excel database with all patents analyzed in the study
All KnowMade life sciences patent reports. Maybe you need a patent landscape to help you make the right decision for your business. Perhaps you need a custom study?
---
3D cell culture: Reproducing an in vivo-like environment in vitro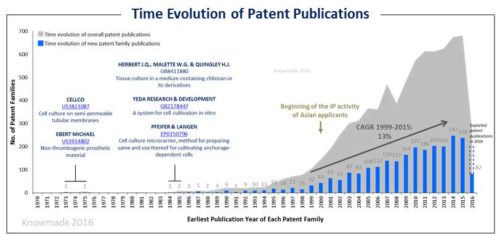 The patent landscape related to 3D cell technologies is very open, involving important academic applicants as well as small companies. It includes over 2,500 patent families and involves over 1,000 patent applicants. Cell culture in two dimensions is widely used for various applications, from fundamental research to biomedical applications. However, this type of culture doesn't reproduce the natural physiological microenvironment of a cell or an organ. Going from two to three dimensions allows the culture conditions to get closer to the true in vivo environment of the cells and 3D cell culture models are becoming more and more popular. In 2015, the 3D cell culture market was valued at $725 million and is estimated to grow at a CAGR of 30.6% between 2015 and 2020 (source : Meticulous Research, May 2016). Surprisingly, while many companies provide products dedicated to 3D cell culture on the market, these companies don't appear among the main patent applicants in the IP side of the domain. In fact, the Top-10 of the main assignees owns less than 10% of the whole patent families and no patent assignee is taking over the 3D cell culture domain. This finding indicates that the IP landscape and market for 3D cell culture are currently structuring and should both evolve in the coming years. The IP landscape related to 3D cell culture is dominated by American and Asian applicants. As a consequence, the USA, China and Japan as well as Korea to a lesser extent represent the main countries of filings. However, Europe seems to represent a new interest for patent assignees and patent publication level in Europe is close to the publication level observed in China.
Identify key players
The report provides a ranking and analysis of the relative strength of the top patent holders derived from their portfolio size, patent citations networks, countries of patents filings, current legal status of patents. Through this thorough analysis, we have identified 10+ major players, each of which is profiled in this report. Each profile includes a detailed portfolio analysis with patent activities, key patents, impact of portfolio, granted patents near expiration and IP strategies. A significant number of main applicants in 3D cell culture technologies are academic applicants, only a few companies appear among the main patent applicants. Most of them are American or Asian. Interestingly, key technologies are not hold by a few patent applicants and the IP sphere of 3D cell culture is rather open.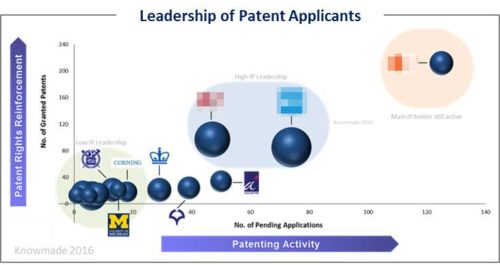 Identify main current IP applicants
Many American and Asian applicants feature among the main patent applicants for the 3D cell culture domain. While American applicants tend to develop their technologies in the USA as well as in Asia, Asian applicants focus their IP strategy on a national scale. Recently Europe seems to interest more those applicants, in particular American applicants, as revealed by the number of applications currently pending in this territory. For now, European applicants do not show a strong patenting activity in the domain of 3D cell culture.
Patented technologies & applications
The 2,500+ patent families selected for this study have been manually segmented by culture system and application. In general, 3D culture systems can be divided in 2 main categories: scaffold-based and scaffold-free systems. Scaffold-based technologies are the most patented. Among the scaffold-free technologies, bioreactor system are the most developed. However, the study revealed an overlap between both types of culture systems. Targeted applications include stem cell culture, cancer, tissue engineering and drug screening. This report also includes an Excel database containing all of the analyzed patents. The database allows for multi-criteria searches and includes patent publication number, hyperlinks to the original documents, priority date, title, abstract, patent assignees and legal status for each member of the patent family.
Assignees cited in the report (non-exhaustive)
A*STAR, Columbia University, Corning, DICP, KIMM, MIT, NASA, Osaka University, Pluristem, Seoul National University R&DB Foundation, Third Military Medical University, University of California, University of Michigan, Zhejiang University