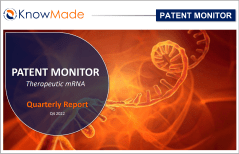 Get up-to-date data on Therapeutic mRNA patent activity: New applications & granted patents, expired or abandoned patents, latest patent transfers and patent litigations.
Need more information? Contact us.
Key features of the service
Every quarter an up-to-date Excel database including: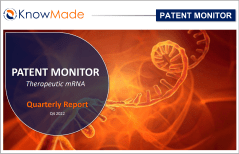 New patent applications
Patent applications newly granted
Expired or abandoned patents
Transfer of IP rights (re-assignment, licensing) and IP collaborations.
Patent litigations and oppositions
Patents categorized by technological segmentation, application and therapeutic area: mRNA design, delivery, manufacturing, mRNA-based vaccines, mRNA-based therapeutics, infectious diseases, oncological disorders and other diseases.
Hyperlinks to updated online database (legal status, documents etc.)
Every quarter a PDF report including:
Key facts & figures of the quarter
Graphs and comments covering the patent landscape evolutions
A close look at the key IP players and newcomers
Access to an IP analyst for 100 hours per year:
Q&A sessions and discussions with our IP analysts regarding trends, analyses, specific patented technologies, or companies' IP portfolios in the field of mRNA therapeutics.
KnowMade also offers patent reports on MedTech.
---
Unlocking the benefits of mRNA therapeutics: A quarterly patent monitoring service
The success of mRNA vaccines as a response to the COVID-19 pandemic has shone a light on the disruptive aspect of mRNA-based therapeutic technology. COVID-19 is one of many indications for the mRNA technology platform, which holds high promise for new vaccines with a wide spectrum of microbial pathogens and cancers. Moreover, therapeutic mRNA is not limited to vaccination, but has also been developed to treat both rare and common diseases (genetic diseases, fibrotic diseases, autoimmune disorders, etc.). However, a series of challenges remain to be addressed before mRNA can be established as a general therapeutic modality. An array of new technologies is being developed to surmount these challenges, including approaches to optimize mRNA cargos, carriers with inherent tissue tropism, and mRNA storing, for example. The orientation of future development might also depend on the therapeutic application, as the development pathway for mRNA vaccines and therapeutics differs in several important respects, such as mRNA immunogenicity, tissue tropism, delivery, or pharmacokinetics.
In this fast-evolving context, it is crucial to understand the intellectual property position and strategy of the different players. Such knowledge can help detect business risks and opportunities, identify emerging research areas, and understand competitors' strategies.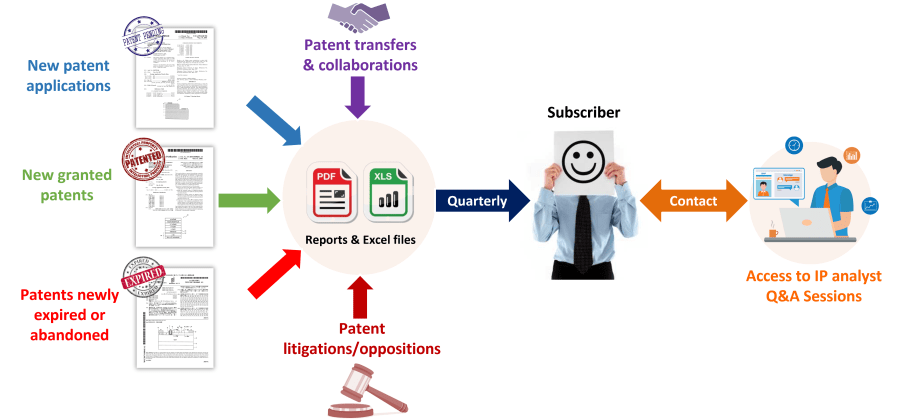 The mRNA Therapeutics Patent Monitoring Service allows you to take advantage of a quarterly-updated Excel file and benefit from both quarterly analysis reports and direct interaction with our analysts. The Excel file includes new patent applications, new granted patents, patents expired/abandoned, patent transfers (re-assignment, licensing), and patent litigation/opposition. The patents are categorized by technology segments, including mRNA design (self-amplifying and circular RNA), carriers, manufacturing, and storing process, but also by application and therapeutic area. This useful Excel spreadsheet with hyperlinks to updated online database allows for multi-criteria searches, including priority date, patent assignees, legal status of patents, and specific segments. The quarterly PDF reports provide the IP trends over the last three months, with a close look at key IP players and patented technologies. Direct access to our analysts offers you on-demand Q&A sessions and open discussions regarding the quarterly report results, trends, analyses, specific patented technologies, or companies' patent portfolios in the field of Therapeutic mRNA.
Benefits of the patent monitoring service
Keep an eye on your competitors' IP activities and their future intentions.
With the help of the patent monitoring service, you will be aware of your competitors' current patenting activities, their IP dynamics, patent transfers including acquisitions and licenses, patent litigation, technology development, and R&D strategies. You will also be able to detect newcomers early in your business area.
Keep track of the latest technology developments and stay ahead of technology trends.
By taking note of any recent patent filings, you can track the latest innovations in the field. You will get details on claimed inventions and you can follow technology developments. New technical solutions could inspire and improve your R&D activity.
Prevent registration of IP rights that may be harmful to your business.
You will obtain information on patent applications filed even before exclusive rights have been granted, and you can react in time to prevent registration of IP rights that may be harmful to your business.
React quickly to infringements and mitigate legal risks.
Monitoring newly-issued patents allows you to regularly assess your freedom-to-operate, ensuring that your products or processes are not covered by patents and thus can be manufactured, sold, or used safely without infringing valid IP rights owned by others.
Take advantage of free technologies and reduce R&D project risks.
By tracking both expired patents and abandoned patents, you will be able to identify inventions entering the public domain that you can use safely for your development.
Understand the current IP trends and IP strategy of competitors.
On a quarterly basis, the report will provide the IP trends over the last three months, with a close look at key IP players, newcomers, and key patented technologies. Main patent applicants and their inventions, blocking patents, promising patents, and key newly expired or abandoned patents will be highlighted.
Access an IP analyst.
Take advantage of direct interaction with our analysts by phone and/or email and get specific input for specific patented technologies and companies' IP portfolios through on-demand Q&A sessions and discussion (100 hours per year).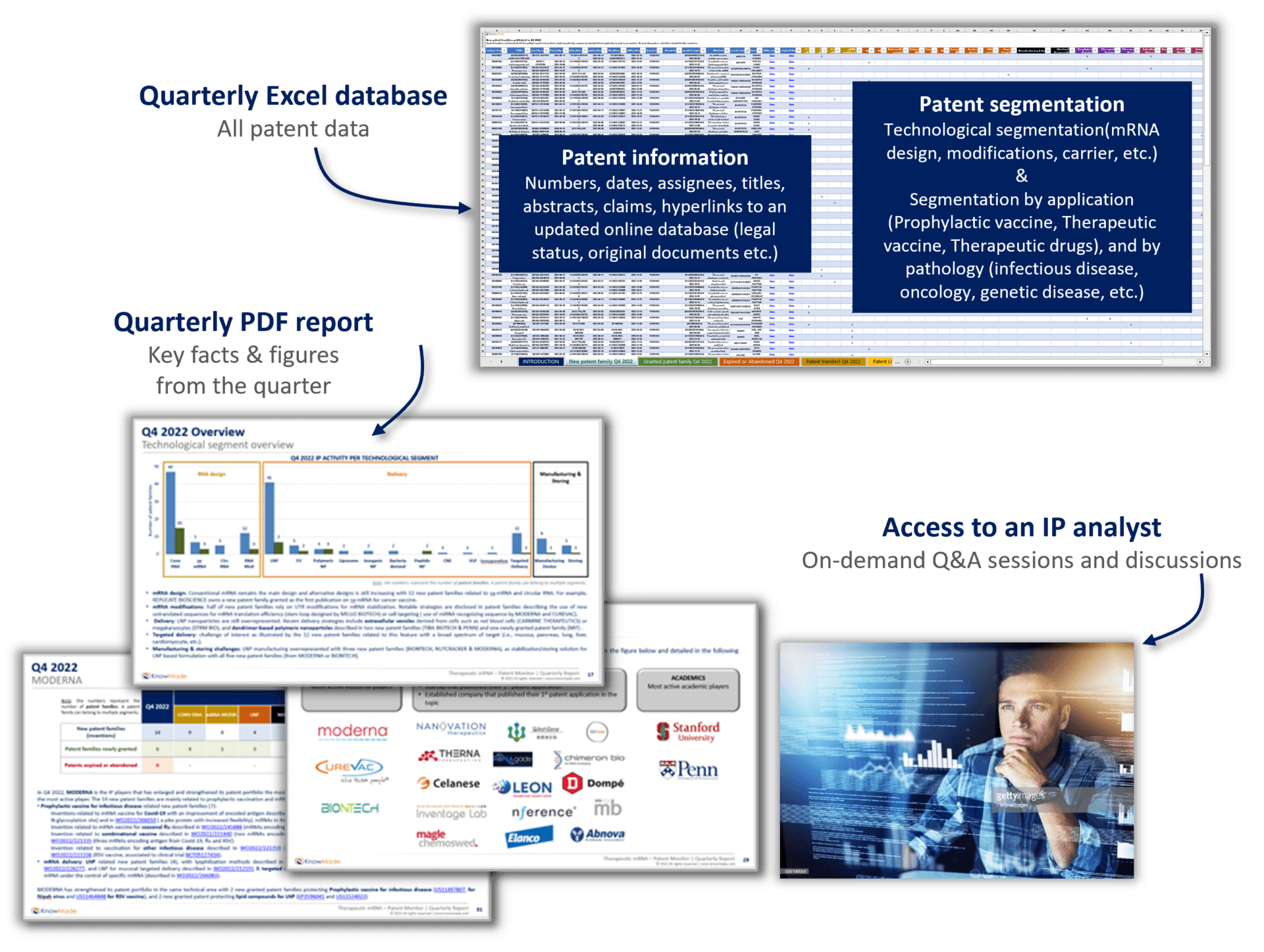 If you need a quote to issue a purchase order, please use our contact page or email address contact@knowmade.fr.