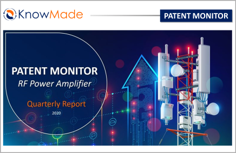 Get updated data on RF power amplifiers patent activity: new patents, patents expired or abandoned, latest patent transfers and patent litigation.
Need more information? Contact us
Key Features of the service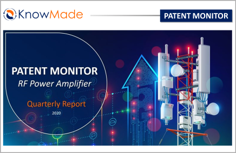 Every month an Excel file including:
• New patent applications.
• Patents newly granted.
• Patents expired or abandoned.
• Transfer of IP rights (re-assignment, licensing)
• Patent litigations and oppositions.
• Patents categorized by technology: PA, LNA, Doherty amplifiers, Packaging, etc. + hyperlink to updated online database (legal status, documents etc.)
Every quarter a PDF report including:
• Key fact & figures of the quarter
• Graphs & comments covering the patent landscape evolutions
• A close look at the key IP players and newcomers
Access to an IP analyst for 100 hours per year:
• Q&A session and discussion with our IP analysts regarding trends, analyses, specific patented technologies or company's IP portfolio.
---
How the wireless communication players are getting ready for the 5G?
With the smartphone revolution, the handset has started to play an even more important role in our lives. Today's wireless handset is a highly sophisticated device capable of operating in global frequency bands and standards, offering navigational assistance through GPS, videotelephony, photo/video sharing and other numerous applications that require very high data rates and more efficient processing of data. Today, the telecoms industry is designing the components that will be used in the upcoming 5G technologies.
The 5G technologies want to be disruptive and opened to horizons by addressing new market and applications. To do so, handsets have to meet complex requirements such as providing multi band, multi mode, MIMO, smart antenna techniques or carrier aggregation (CA) while remaining low cost and small. All these requirements pose a huge challenge to handset RF front end (RFFE) architecture, design and manufacturing.
Power amplifiers (PA, LNA, Doherty amplifier, etc.) are among the key components of today's RFFE solutions. Indeed, for enhanced user experience and massive MIMO antennas at cm-wave/mm-wave frequencies, the 5G system will require more PAs to be integrated in the RF front-end modules, making the design of a 5G PA more critical than that of a 4G PA. For any successful commercial 5G application, the output power, linearity, reliability, cost, and form factors of a PA are all very important. With an estimate market of $4,2M in 2022, according to Yole Développement, power amplifier market will be the second largest market of the RFFE industry.
The RF power amplifier patent monitoring service allows you to take advantage of a monthly-updated Excel file and benefit from both quarterly analysis reports and direct interaction with our analysts. The monthly Excel files include new patents, patents expired/abandoned, patent transfers (re-assignment, licensing) and patent litigation/opposition. The patents are categorized by technology segments including PA, LNA, Doherty amplifier and packaging. This useful Excel patent database allows for multi-criteria searches including priority date, patent assignees, claims, legal status of patents and technology segments.  The quarterly reports provide the IP trends over the three last months, with a close look to key IP players and key patented technologies. The direct access to our analysts offers you Q&A session and open discussion on specific patented technologies or company IP portfolios.
Benefits of the patent monitoring service
Keep an eye on your competitors' IP activities and their future intentions.
With the help of the patent monitoring service, you will be aware of your competitors' current patenting activities, their IP dynamics, patent transfers including acquisitions and licenses, patent litigation, technology development and R&D strategies. You will also be able to detect newcomers early in your business area.
Keep track of the latest technology developments and get ahead of technology trends.
By keeping note of any recent patent filings, you can track the latest innovations in the field. You will get details on claimed inventions and you can follow technology developments. New technical solutions could inspire and improve your R&D activity.
Prevent registration of IP rights that may be harmful to your business.
You will obtain information on patent applications filed even before exclusive rights have been granted and you can react in time to prevent registration of IP rights that may be harmful to your business.
React in time to infringements and mitigate legal risks.
Monitoring newly-issued patents allows you to regularly assess your freedom-to-operate, ensuring your products or processes are not covered patents and thus they can be manufactured, sold or used safely without infringing valid IP rights owned by others.
Take advantage of free technologies and decrease R&D project risks.
By tracking both expired patents and abandoned patents, you will be able to identify inventions entering the public domain that you can use safely for your development.
Understand the current IP trends and IP strategy of competitors.
On a quarterly basis, the report will provide the IP trends over the last three months, with a close look at key IP players, newcomers and key patented technologies. Main patent applicants and their inventions, blocking patents, promising patents and key newly expired or abandoned patents will be highlighted.
Access to an IP analyst.
Take advantage of direct interaction with our analysts by phone and/or email and get specific input for specific patented technologies and company IP portfolios through on-demand Q&A sessions and discussion (100 hours per year).